On-field entertainment can make or break how an NRL grand final is remembered for years to come.
It's a challenge many won't take on willingly expect, of course, if you're the one and only legendary Greek composer, George Ellis.
When Ellis was asked by the NRL and Channel 9 to orchestrate the national anthem and music for the grand final entertainment he jumped at the chance to work with musicians such as the Stafford Brothers, Timmy Trumpet, William Barton, Kate Miller-Heidke and Ian Moss.
"It was great. I've always loved Ian Moss and I'm a huge fan of Kate Miller-Heidke," Ellis tells The Greek Herald.
"And when I heard they were performing Flame Trees as a duet, I got a real thrill and it was an honour as I think they're both hugely talented."
READ MORE: Conductor George Ellis on the 'musical energy' he gets from his Greek heritage.
The show itself opened with a brief appearance from the Stafford Brothers and Timmy Trumpet. The Nunukul Yuggera Aboriginal Dance Company then took the field and this led to featured performer, William Barton, giving a didgeridoo performance. Kate Miller-Heidke and Ian Moss joined in later for their Flame Trees rendition.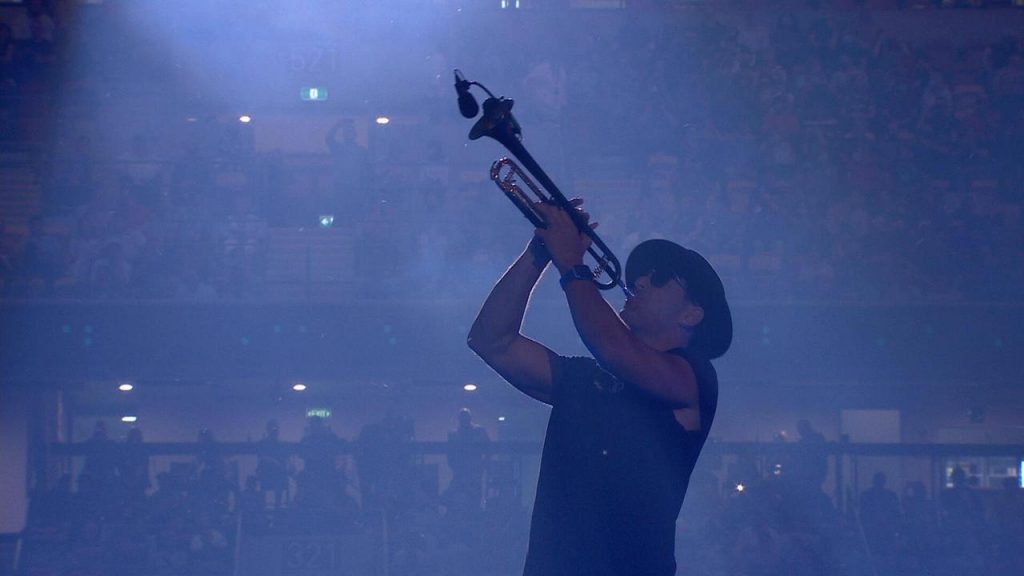 Despite not being able to attend the grand final in Brisbane due to travel restrictions, Ellis says the live performances last night were 'brilliant' and he was impressed with the local musicians he had hired for the 40 piece orchestra.
"It's lovely when people like it and acknowledge your work," Ellis says, whilst emphasising that while the performances weren't the 'main event' they still made everyone really excited for the game.
"I really am just grateful that the NRL and Channel 9 value symphony orchestras enough to support them and make them a feature."