By John Voutos.
On April 8, 1996, Olympic gold-medallist and record-breaker Anna Korakaki was born. Anna is the first Greek female athlete to win two Olympic medals in a single tournament.
The Greek Herald takes a look at Greece's tenured shooting champion.
Early life:
Anna Korakaki was born on 8 April 1996 in Drama, Thessaloniki, Greece. Anna is the eldest sister to fellow Olympic shooter, Dionysis Korakaki. Anna is three-years older than Dionysis.
It was Anna's coach and father, former shooter Tassos Korakakis, who encouraged Anna to pick up pistol shooting at 8 years old and begin competing as a member of the Orion Shooting Club of Thessaloniki in 2009.
Korakaki complimented her professional shooting with a degree in Special Education and Rehabilitation from the University of Macedonia.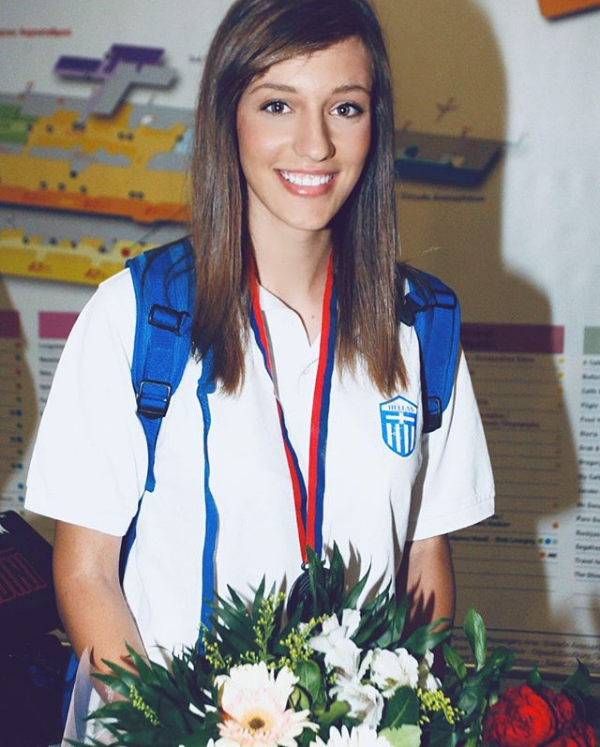 Years later, Anna "disappointingly" and "sadly" placed fourth at the Summer Youth Olympics in Nanjing, China.
"I remember thinking to myself, 'Since I didn't make it here, I will definitely not make something at the… great Olympics just two years from now. No way'," she said.
Little did Anna know.
The 2016 Summer Olympics in Rio de Janeiro, Brazil:
Anna Korakaki represented Greece in her record-breaking maiden Olympic tournament at the 2016 Summer Olympics in Rio de Janeiro, Brazil.
Anna took home the bronze medal with a score of 177.7 degrees in the 10m air pistol final – the first for Greece in the Olympic shooting competition since 1920.
Two days later, and just four days into the Games, Anna unrelentingly went neck-to-neck with Germany's Monika Karsch in the 25m fire pistol competition before snatching Greece's first gold medal since 2004.
Korakaki won four of the seven series in the match against Karsch to become the first Greek athlete to win two medals in a single Olympic tournament since Konstantinos Tsiklitiras at the 1912 Stockholm Games. She became the eighth Greek athlete to achieve this feat at just 20 years old.
Korakaki was greeted in Athens with the typical fanfare and a royal welcome. Sports Minister, Panagiotis Kouroumblis, hailed Korakaki a "child of all of Greece."
Anna's win accompanied controversy. Korakaki returned home to find her makeshift training facility demolished by the Drama Municipality. The state of the facility was receiving negative press during the Games.
"The first day of training is lost and so are [Drama's Mayor Christodoulos Mamsakos'] promises!" Anna wrote in an Instagram post. "And… one month before the final!"
Korakaki refers to the International Shooting Sport Federation (ISSF) World Cup in Bologna, Italy, for which she would win gold in the 25m pistol event and be named the ISSF Shooter of the Year.
Post-Rio Games:
Anna went on to win gold at the 2018 ISSF World Cup in the USA; the International Shooting Sport Federation World Championships in South Korea; win gold at the HH The Amir of Kuwait Ninth International Shooting Grand Prix; gold at the H&N Cup in Germany; and many more.
Within four years from 2014 to 2018, Anna went from "missing the podium" at the Youth Olympics to breaking records and being elected by the IOC as an Athlete Role Model (ARM) at the Buenos Aires, Argentina, Games in 2018.
Anna became the first woman in history to front the COVID-safe Olympic torch relay in Olympia, Greece, in March 2020, ahead of the long-postponed 2021 Tokyo Games.
Legacy:
The 25-year-old is currently gearing up for the unprecedented Olympic Games in Tokyo after a year of cancelled championships and tournaments.
Anna is active on her social media about political and social issues, from joining Stoiximan Group's #OneTeam campaign to thank Greek frontline workers during the pandemic, to publicly supporting fellow Olympian Sofia Bekatorou in her decision to come forward with an allegation of sexual assault.
Anna has 111,000 followers on Instagram and Facebook. You can follow her on Instagram @annakorakaki.