By Marina Siskos
Georges Vizyenos, novelist and poet, was born by the family name Georges Syrmas, in a destitute family environment of five children, on March the 8th, 1849.
He has left an unparalleled legacy by introducing a set of ground-breaking techniques in his writing, majorly by means of the profoundly soul-deciphering style of his novels, recognized as viscerally psychographic. His piercingly soul-searching writing style came into being and flourished roughly a generation prior to Freud.
An outstanding figure of the generation of 1880, Vizyenos skilfully adopted a starkly sincere depiction of the human soul and its workings.
It is only just that Vizyenos is acclaimed to be the master of ethographia, unanimously characterized as "painter of souls", with his seemingly effortless soul-depiction of his characters, transcending simple ethnography.
Georges Vizyenos was born in Vize, Kirklareli province, on the west coast of the Black Sea. His birthplace and early childhood trauma stigmatized, apart from his own soul and personality, also his writings, which are replete in culminating points of human despair, especially the mother-child bond and the unrequited love of the son who carried the guilt of his own gender.
His mother, a dominant figure in most of his novels, turned her life into a traumatizing effort to be redeemed for her daughter's accidental death during her sleep, having suffocated her newly-born girl.
That was the incident that inspired one of his autobiographical short stories, namely "My Mother's Sin", written in 1883. In his first short story, Vizyenos combines autobiography with an effective use of psychological analysis and suspense; "My Mother's Sin" is built on the themes of forgiveness, guilt, and atonement, all elements unfolded in an exquisitely confessional manner; the story probes into a peasant woman's (the writer's mother figure) heart-wrenching attempt to atone for the accidental death of her only daughter, while leaving her other three male children feeling stranded (Consulate General in New York, 2018).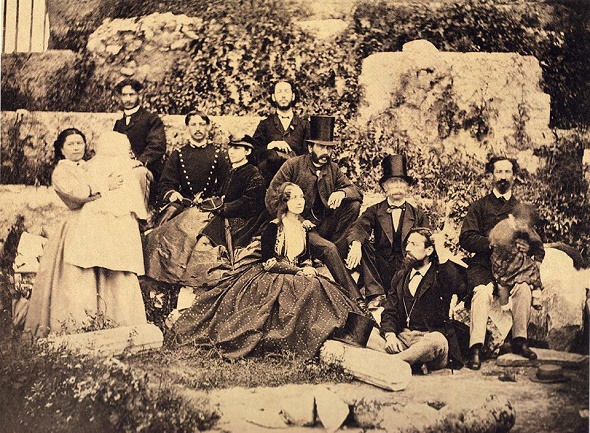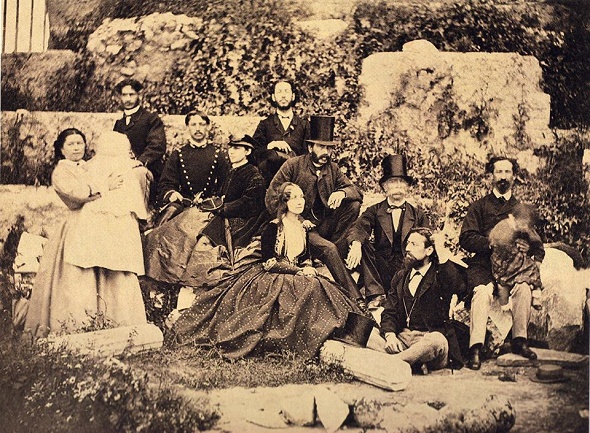 Vizeynos derives his narrative material from his personal recollections, scenes that are widely retrieved from his homeland, the domestic and communal rituals, his family memories, such as the death of his father and his little sister, folklore, traditions, such as the ritual observance of adoption and experiences recounted and native to his homeland, Vize, such as the matrimonial ceremony.
Vizyenos' novels are evocative of his early surrounding imagery of the Ottoman-repressed hometown, the vestments of his co-patriots who also happen to constitute the familiar personae of his writings, ascribing to them the nuance of ethographic literature. His particular depiction and the forceful use of language, devoid of melodramatic crescendos-rather unadorned and strong in its simplicity of tragic incidents and acceptances- lead to the conclusion that "the 19th-centrury writer Vizeynos has been credited with establishing literary realism n Greek fiction" (Consulate General in New York, 2018).
Most of his writings are self-narrative, self-investigative in nature.
As concluded by literary criticism, the study of Vizyenos progresses from biography towards his writing, hence, leading to the conclusion that both his life and his works are characterized by otherness (Diakosavva, 2018). Namely, in his narrative Moscov-Selim, Vizeynos, adopting a far-sighted manner, attains to transcend the ethnical and religious divides, which were aflare during his day, and impartially touches the human soul.
According to Diakosavva (2018) it is astounding how, in sight of the era he lived, proactively he adopted a mindet via which he overcomes the prejudice and he highlights the virtue of Moscov-Selim, the Turlish protagonist of his story, and the way he overcomes the prevalent stereotypes about "same-blood friends" and "foreign-blood enemies" (Diakosavva, 2018).
His writings are suffused with otherness: this otherness permeates his personal, turbulent life and his influences, the narrative technique he established and the characters of his stories, but majorly, it is present in his intercultural ethics communicated by his groundbreaking works (Diakosavva, 2018).
Moscov-Selim, written in 1895, has been the last story of Vizyenos, released on instalments in Hestia (the outstanding literary paper of the day), during the writer's hospitalization in a mental institution, wherein his demise also occurred. Moscov-Selim, the Turkish protagonist, from the provincial aristocracy, is a brisk story, filled with ethnographic and psychobiographic elements, narrating the adventures of the persecuted and tantalized Moscov-Selim.
It cannot be neglected that there is link connecting the authenticity of Vizeynos' style and his studies in Germany; there, he came into contact with a literary world that was forsaking Romanticism and the sterile Classicism and was now turning inwards, to the soul. This was a defining fact that formulated his prose. It is worth remembering that, in Germany, Vizyenos was a student of Wilhelm Wundt (1832-1920), the founder of experimental psychology and father of modern psychology.
The Benefactor, the Studies Abroad
The absence of a fatherly figure is also apparent both from his early childhood and his writings. Vizyenos spent almost the entirety of his lifetime under the wings of eminent personalities though, who generously granted his studies and publications, with the most illustrious of them being his co-patriot and education benefactor, Yeorges Zarifis.
Early in his life, at the age of ten years, Vizyenos was sent by his grandparents to Constantinople to learn the craft of sewing and eventually become a tailor-an uptake he never fulfilled. Vizyenos entered the School of Philosophy in Athens, wherein he would study from 1874 to 1875 and continued his studies in Leipzig. 1881 is the year his dissertation paper was completed, titled "The Relation of Psychology and Pedagogy with the Children's Play". In this light, one can conclude that his ease to dig into the intricacies of human psyche might have been scientifically backed.
Vizyenos would oftentimes attract the disdain of the elitist academic circles of Athens, a token of which is disclosed by his correspondence, in 1876, addressed to one of his professors, Ilias Tantalides: He wrote:
"Do not reprimand me for stepping into your clean basement in my muddy tsarouchia; for, as you know, in a village I was born and I have walked a far, really far and muddy road".
The Mental Health Collapse and The Fall into Oblivion
Stricken by his mental disease and the progressive general paralysis, Vizyenos perished desolate at the premature age of 47 in the Psychiatric Hospital Dromokaition in April 15, 1896.
To this day, his writing is exemplary and included in the curriculum of Literature in junior and senior high-schools.
Poems/Novels: My Mother's Sin (1883), Between Piraeus and Naples (1883), Who was my Brother's Murderer (1883), The Consequences of the Old Story, The one and Only Journey of His Life Moscov-Selim (1886), Thracian Tales
*With information from:
Consulate General in New York. (2018). My Mother's Sin by G. Vizeynos. A world first in English and the United States.
Διακοσάββα, Ε. (2018). Γεώργιος Βιζυηνός, ο Συγγραφέας της Ετερότητας. Σαν Σήμερα. Lifo.
Κουζέλη, Λ. (2010). Ο Παιδοψυχολόγος Βιζυηνός. Το Βήμα, Πολιτισμός.
Μπουτάτος, Χ. (2020). Ζαρίφης Γεώργιος, «o Rothschild της Ανατολής».
Παξιμαδάκη, Ε. (2010). Γεώργιος Βιζυηνός, Βιογραφία και Εργογραφία.
Πανταζίδου, Ο. (2017). Όταν ο Θρακιώτης Λόγιος Γ. Βιζυηνός Συνάντησε τον Πρωτεργάτη της Ελληνικής Ηθογραφία, Δ. Βικέλα.
Σιδερά, Π. Γ. Βιζυηνού. Το Αμάρτημα της Μητρός μου. Ανάλυση.