From the birth of Jesus Christ to traditional Christmas carols, the vasilopita and the Blessing of the Waters, Panagiota Andreadakis' second bilingual alphabet book for children has it all.
The ABC of the Twelve Days of Christmas aims to reconnect children and families with the religious and cultural traditions celebrated during the Orthodox Christmas period from December 25 until January 6.
Panagiota tells The Greek Herald she decided to write the book as she "wanted to get the Greek heritage, traditions and religion into every household no matter the level of Greek vocabulary."
"I was raised in a family with strong Greek cultural and religious values that became a part of who I am," Panagiota, who also wrote The ABC of Greek Easter, says.
"My series of books are a way of preserving this heritage and passing it onto the next generation."
Panagiota's new book does exactly that. Beautiful illustrations, attached to letters from the Greek and English alphabets, capture the interest of young readers and help them understand the meaning of things such as the fasting period, the Saints and even Christmas hymns.
READ MORE: 'The ABC of Greek Easter': Panagiota Andreadakis releases her debut bilingual children's book.
"Some of the illustrations include members of our family. This made it very 'real' for me, bringing back memories of Christmas from my childhood…" Panagiota says.
"My favourite illustration is the vasilopita as it resembles family, unity and faith. It was very important to me to find a way to demonstrate to children how and in what order it is cut.
"I placed the coin in the centre to symbolise that the coin is in the cake and could be in anyone's piece once cut."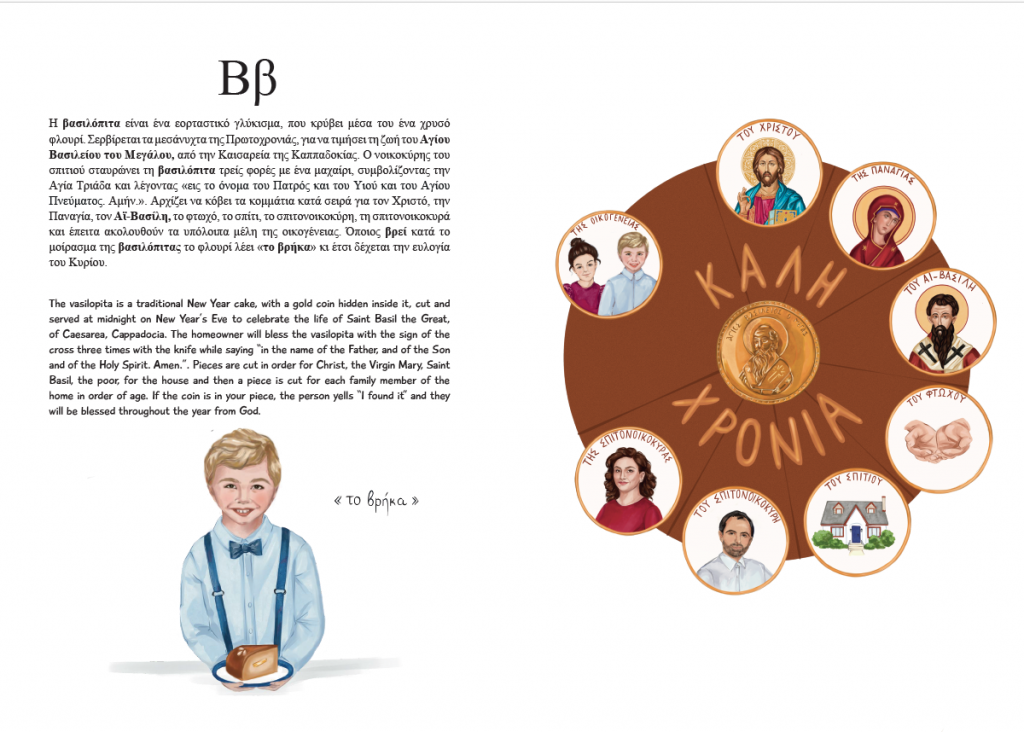 It's clear The ABC of the Twelve Days of Christmas holds a very special place in Panagiota's heart and she says she can't wait to see it on people's bookshelves soon.
"It is the perfect heirloom and keepsake gift for your children, grandchildren, nieces, nephews, godchildren, baby shower, birth of a baby, christening, to have on display or include in a beautiful gift or hampers," she concludes.
"It is the perfect gift for under the tree this Christmas!"
The ABC of the Twelve Days of Christmas can be purchased from www.stelakis.com.au or participating stockists listed on the website.
Panagiota is also holding two competitions – 'Vasilopita Colour-Me-In Competition (7-11 years old)' and 'Christopsomo Colour-Me-In Competition (3-5 years old)' – which you can find out more about via www.stelakis.com.au.