Sandy beaches and blue seas, sunshine, islands big and small, cities bustling with life, scrumptious culinary delights, extended family and friendly smiles.
Dreaming of Greece? You are not the only one!
With her debut bilingual children's book titled 'A Holiday in Greece', author and illustrator Androula Matthews, aims to encapsulate her fondest memories of holidaying in Greece and share elements of her vibrant culture and love for the language, with younger generations of Greek Australians.
"It was inspired by my own travels in Greece and the great memories I have from the many of the things I saw and did on my holidays. Writing and illustrating my own children's book has been a dream of mine for quite some time!
"I really want this book to make people feel excited about Greece, especially during a time when travelling may not be possible," Matthews, 31, tells The Greek Herald.
Although Ms Matthews refers to it as a "light-hearted introduction for children to Greek culture and holidays" she hopes that by reading the book, parents will also experience the nostalgia and reminisce pleasant memories.
An immigration story and the author's Greek upbringing
Born in Australia by a Greek-Cypriot mother and a Scottish – Australian father, Androula speaks with pride about her family and their strong ties with the Greek language and culture.
"Mihalis and Androula, my maternal grandparents, were born in Mamonia, a small village in Cyprus where they also got married. They later moved to Limassol, where my mother and her five siblings were born. In 1967, they arrived in Melbourne with the "Patris" in search of a better life. Their original boarding pass is a part of our family keepsake.
"My father is of Scottish decent and second generation Australian and lived with my mother's family from his young adult life and fully embraced their way of life and culture. Before my parents married, he was baptised in the Greek Orthodox Church as "Harilaos", after my Great Grandfather)," Androula says.
"Each year, from a young age, my parents would take my sister and I on a trip to Sydney during the Greek Easter period, where we would attend church services at the St. George Monastery in Yellow Rock.
"There, we would experience an authentic Orthodox Easter. My cousins were also a very big part of my life growing up, nothing was more exciting than all the family gatherings where we would all play together and eat endless amounts of food. We all continue to play an important role in each other's lives," Ms Matthews says excitedly.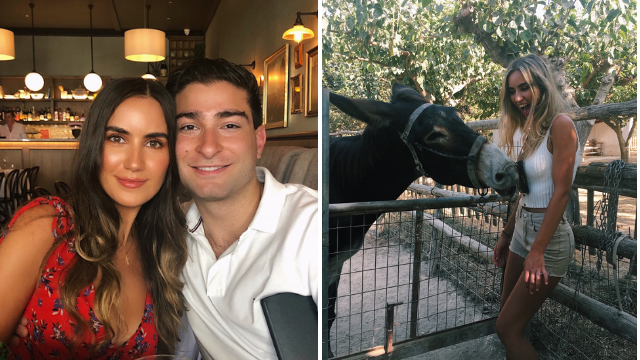 The Greek language classes and the desire to pass on the culture
Over the last few years, Androula, with her fiancé's encouragement, has embarked on a journey to further explore her culture on a deeper level.
"I have been attending Greek language classes at the Greek Orthodox Community of Melbourne (GOCMV) to improve my speaking. This is crucially important to me as I would like to pass our rich culture and language onto our children.
"Although growing up I attended Greek school, I never fully grasped and had a proper appreciation of the language at that time. As I became older I really started to feel like something was missing".
But it's never too late and now Androula wants to encourage more Greek Australians to hold on to their culture and traditions.
"Our culture connects us to our ancestors and is part of our identity. It is rooted in us and sets us apart. Being Greek is definitely something to feel proud of and share with the rest of the world".
*The book 'A Holiday in Greece' will be available on sale in early October