By Vasilis Vasilas
Passing down any business from one owner to another is often a delicate matter; despite having an established reputation, the great question remains is how customers will respond to the new owners. Customers have simply established such a strong connection to a business and a change in owners is arguably the biggest change customers must accept. Last week, Vasili's Taxidi featured one of Sydney's socio-gastronomic institutions, 'Paul's Famous Hamburgers', at Sylvania, which was established and excelled with the Zerefos family. With the Sinesiou family buying the business in 1998, not only did they maintain its high quality product and service, and its reputation, but 'Paul's Famous Hamburgers' has become such an award-winning business that it is recognised at a national level, and even beyond Australia's borders. 
The Sinesiou family has an excellent pedigree in small business; over the years, Nikos and Sandra, with their four sons, John, Michael, Chris and Jim, have run everything from delicatessens to fish and chips shops, from takeaway shops to cafes. When the opportunity arose to buy 'Paul's Famous Hamburgers', they knew they were taking over one of Sydney's iconic shops, which served such reputable, traditional Australian hamburgers that customers flocked to the shop from all over Sydney. 
Asked about the purchasing such a successful business, Nikos frankly explains the risk(s), 'Paul's Famous Hamburgers may have been a highly reputable business but we were now the new owners- we would have to work very hard to maintain this reputation. Customers grew up with Paul's being there; they could have easily walked away from it, if we did not look after it. But I believed in myself; I believed my family could succeed with Paul's! We have worked hard to maintain the Paul's brand but we have built on it too.'
With such a successful brand and recipe, the Sinesiou maintained the shop the way it was. As Nick points out, 'We have elderly customers coming into the shop who were customers when it first opened in 1957. Customers have known this shop for all their lives; they are part of this shop's story and we wish for them to feel part of it too. People are so familiar with Paul's Famous Hamburgers that they love the shop the way it is, so we have kept it the way it was.'
The Zeferos family even passed down the recipe, for the tasty burgers, to the Sinesiou family; the meat continues to be minced, marinated and mixed, and then pressed into meat patties, on the premises, ensuring the product remains the highest quality. And it is this high quality that keeps customers travelling great distances for a Paul's famous burger; as Nikos' son, John, explains, 'People love coming to the shop; the love the product. Everything in our shop is fresh; each meat patty is pressed by hand. With the Zeferos family passing down their recipe, we mince, mix and press the meat on the premises. We go down to the fruit market to get our fruit and vegetables. Quality control is fundamental in maintaining our high quality product.
'And my brothers and I all work together: for our 'prep', Chris makes up the meat mixture and I form the meat patties in the mornings. Michael and Dimitri do all the cutting of vegetables. And we all share the cooking!'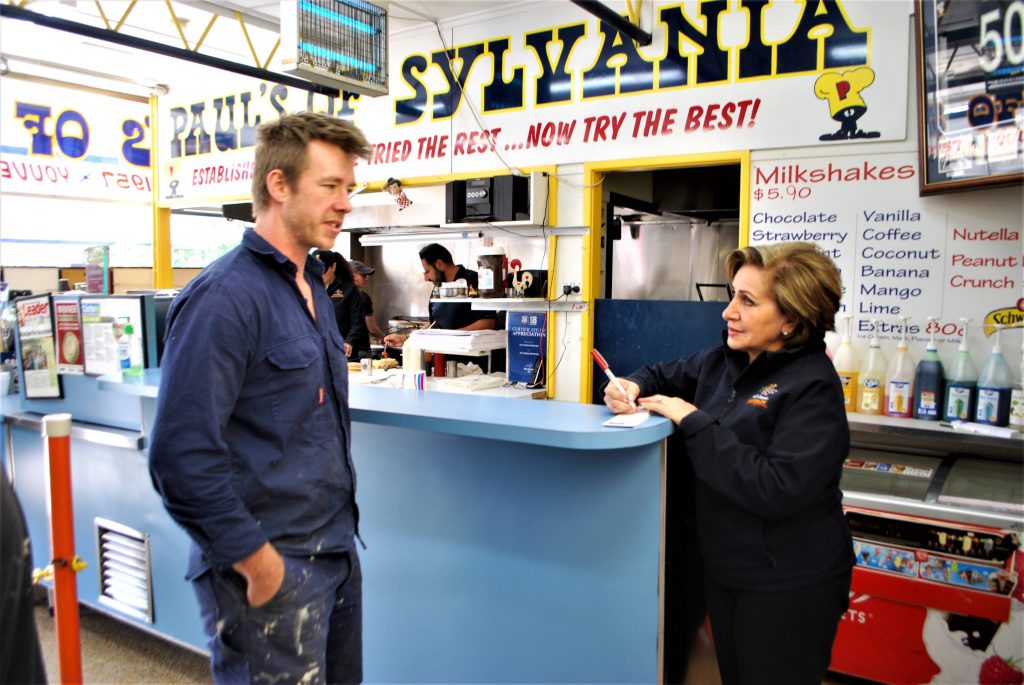 Like so many successful Greek businesses, the importance of a family sticking together is such a recurring ingredient to its success. And Nikos emphasises this, 'My whole life is poured into this shop. I am lucky that I have my sons and their families involved in this business. Family is so important to me. My children, John, Michael, Chris and Dimitri have grown up around me; there are no words to describe the joy of having all my children next to me… in this business…
'The real hero in our journey is my wife, Sandra; she was always there, next to me, in all our shops. While I just focused on our businesses, it was Sandra who had to juggle working in our shops and bringing up our four sons. To think we have worked together in so many shops, for so many years… that is a truly special relationship…' 
With over sixty years of history, John explains why tradition and history are important parts of Paul's Famous Hamburgers, 'Our customers still remember their first Paul's hamburger; they introduce their children and grandchildren to our hamburgers. Customers have proposed to their partners and have taken wedding photos at our shop. So many customers' memories are attached here. Paul's Famous Hamburgers is an important part of people's lives!'
Follow Vasili's Taxidi through Marrickville next Friday online and in print…