Greek migrants have been thanked by politicians, past and present, many times throughout the course of history for building the foundations upon which Australia was built. Yet while collective thanks is highly appreciated, there is nothing more special than an engraved record of the achievements of migrants.
The Welcome Wall, developed by Australia's National Maritime Museum is home to over 30,000 names of migrants on 81 bronze panels, stretching across the northern promenade of the museum in Sydney.
Australian National Maritime Museum CEO Kevin Sumption expresses to The Greek Herald his honour in sharing the incredible achievements of the migrants who built Australia from the ground-up, with Greeks playing a large part in this incredible piece of history.
"If you look at the 30,000 names, there's over 1200 who have made their way from Greece," Kevin says to The Greek Herald.
"The Greek community, particularly in Sydney underpins so many businesses and so much of the rich cultural fabric of the city.
"To be able to get more Greek names and families on the Welcome Wall would be fantastic."
The Welcome Wall was constructed and revealed for the first time on 24 January 1999, by then by then Governor-General Sir William Deane. It is Australia's only national memorial to one of history's great migrations.
"Our nation is the sum of us all, all those who came here, all those who were born here, all those who are or have been Australian. And that is the great lesson of this Welcome Wall … our diversity has led to our unity," Sir William Deane said at the launch.
Now, over 20 years later, Kevin Sumption is working tirelessly to protect and add to the growing list of migrants featured on the wall.
"We see it as a national monument to migration," Kevin says.
"To a country who, particularly after the second world war, has benefited so enormously from the influx of so many different cultures.
"We like to think that something like that would become bigger and more acknowledged, because it's a fundamental attribute that's unique to Australia."
Many of Australia's early migrants tirelessly dedicated their time and resources ensuring their children were able to build a better life. Tales of family sacrifice and hard decisions stretch across over 20 metres of metal wall, looked at by over 1.1 million tourists and residents each year.
Migrating across the globe after growing up in Cyprus for over four years, Kevin knows all too well how unique the stories of migrants are.
"It's a beautiful way to mark and honour those really hard decisions to start a new life.
"They made a conscious decision to do that, not for themselves but for their very young children.
"Making sure they have a life of opportunity, a life that they themselves could not see during that time."
A touching tribute to the thousands of migrants that have been lucky to call Australia home, Kevin eventually hopes to be able to dedicate more exhibitions to the history of migrants. The CEO revealed that the "bigger vision" is ultimately to create a national migration museum at the Royal Maritime Museum as well.
"I feel these stories, their time is now. They need to be told," Kevin stresses.
"This isn't distant history, this is very close. But we're losing it.
"We're in the memory business. The memory business is to capture those important memories, especially for school students, so they can understand that there is something very unique about migration in Australia."
As a national history museum, much of the Maritime Museum's resources are spent maintaining artefacts brought to Australia almost 100 years ago. With over 140,000 objects in their possession, Kevin reveals that over 10,000 alone are missing pieces to Australian migrant stories.
"We capture those artefacts and the idea for us is that we keep that object in perpetuity.
"We make sure that in 100, 200 and 300 years' time, that object is in as good condition as it can be.
"They tell the stories of individuals."
Any Greeks who wish to put their family's names on the Welcome Wall can do so by going to their website and applying before November 1 to see it's grand unveiling on January 10, 2021.
Bessie Dounis: Family history that spans three centuries
Bessie Dounis was one of the thousands of migrant children who decided to put her parents on the Welcome Wall around 5 years ago.
Speaking to The Greek Herald, Bessie says that she felt it was important to share her parents' achievements and story with the Maritime Museum.
"I hadn't heard about it until I came to the maritime museum one day. I saw the Welcome Wall and I wanted to do it straight away," Bessie says.
Bessie's mother, Maria, and father, Con, were born before 1900 in Evia, from the village of Raptei. Childhood sweethearts, the pair gave birth to two children before Con moved to Australia with his brother Stylianos and his cousin, leaving his family behind in Greece.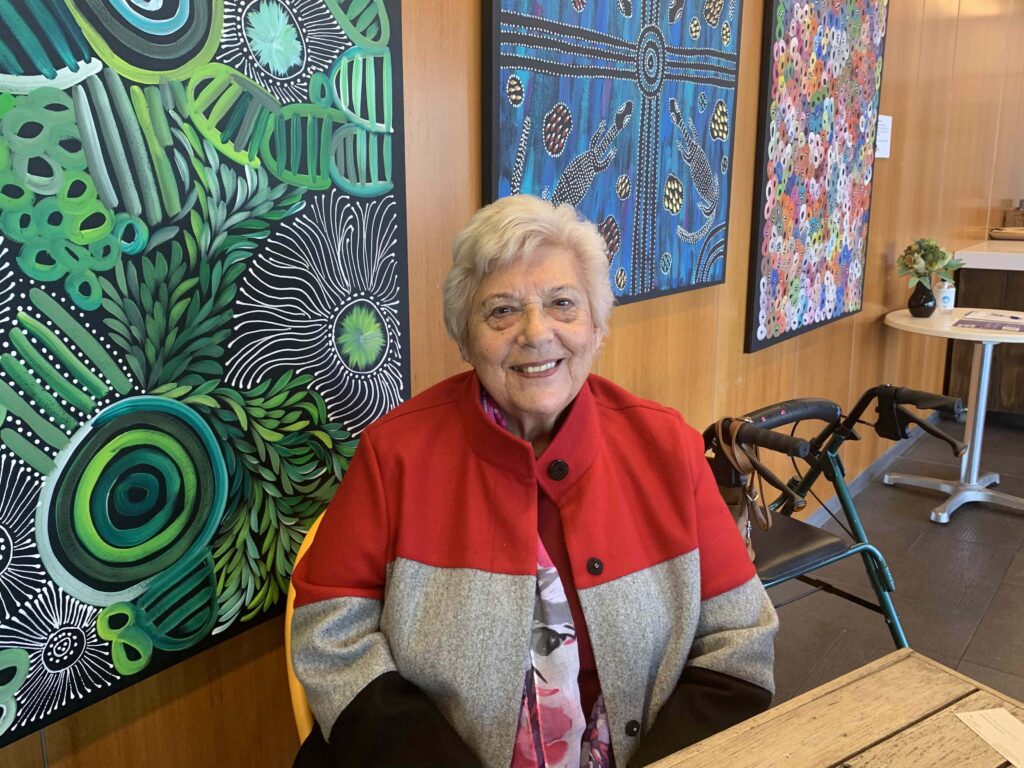 Con spent eight years working in the fishing industry off the Great Australian Bright before he saved enough money to bring his family over from Greece on 26 January 1936 – Australia Day.
Almost exactly nine months later daughter Bessie was born in Sydney. In quick succession another four children followed: Nicholas in 1938, Michael in 1940, Steve in 1942 and George in 1944.
"It's lucky she came out because only three years later, World War II had started," Bessie says.
Bessies family settled in Kings Cross after sailing over from Greece, with her father running a fruit shop in the district. Selling the shop in Kings Cross to buy another in Bondi Junction, Bessie explains that Eastern Suburbs business didn't last too long, with her family being "stuck in the Cross" for most of their lives.
"Dad sold the Kings Cross shop to an Italian. But it was then announced that the Italians had to be interned. So dad had bought the shop back from him."
While Bessie's father was renowned for his fruit shop in the Kings Cross area, her mother, Maria, was a beloved member of the community.
"If something went wrong on Palmer's street or in the area, they would always call her to do her old fashioned remedies. She was loved by everyone."
While her parents collected many stories during their time in Australia, at 84 years old, Bessie has been blessed with many once-in-a-lifetime opportunities. One of these experiences includes her involvement in the Greek Orthodox Millennium Choir; The second choir in history to sing the millennium hymn in Greek at the Olympics, outside of Greece.
"I'll tell you what. Magic."
"We had to go to Kingsford church and George Ellis was the conductor. We had the best seat in the whole house of the Olympic stadium for the opening ceremony.
"It's funny because my parent's names are on the wall, but my name is on the Olympic Park."
Bessie's father Con tragically died in April 1970 and was remembered by many of the migrant Greeks and local Kings Cross community as a good man who always helped other new arrivals to the country.
Maria lived to an impressive 96 years of age and is still fondly remembered by Bessie for her generous soul and loving nature.
"My mother was a truly special woman," Bessie concludes.
At 84 years old, Bessie continues to tell her parent's stories, honouring their legacy as a piece of national history on the 'Welcome Wall'.