By Elias Karagiannis
The atmosphere in Athens is saturated with the plans and desires of constantly people in a hurry… Fleeting witnesses of the miseries which are growing in the streets.
In Monastiraki you are crushed by the overwhelming awareness of misery while our fellow human beings grow with a cardboard box to house the hopes of the past and the uncertainty of the future.
In this quicksand of everyday life, an idea that was born in Australia, adopted in Greece and now remains viable thanks to the help of "the Hellenic Initiative Australia" (THI) offers a temporary, at least, response to hundreds of homeless people or people in homelessness, as our fellow citizens are called who do not have access to basic goods.
"Ithaca Laundry" is a mobile washing machine that was piloted in the streets of Athens in April 2016, with its operation being undertaken exclusively by volunteers aged 20 years.
"Ithaca was founded in 2015 by a group of students: Thanos Spiliopoulos, Fanis Tsonas and Andeli Rahouti. Their inspiration for this idea came from a similar action in Australia, but mainly due to the lack of corresponding structures in Greece and the great need that existed to cover this issue," says the Director of the Organisation, Dimitra Kountouriotou.
"Ithaca Laundry" offers something that to our readers seems like a given but for people in a state of homelessness it is not… A freshly washed garment… A human feeling.
"The mobile laundry unit was launched with the main purpose of increasing the social integration of homeless and vulnerable groups, through the provision of hygiene services and the improvement of their living conditions, while at the same time, we employ people from socially vulnerable groups in the unit itself.
"Recognizing that the road to reintegration requires time and a holistic approach, and responding to the ever-increasing needs of our fellow human beings, we have expanded our actions, adding social service to the field and labour counselling and support" explains Ms. Kountouriotou.
A day at Ithaca Laundry
The mobile unit of "Ithaca Laundry" consists of two washing machines and two dryers with water and electricity provided free of charge by partner organisations. It works daily and throughout the day the unit visits 6 different, but fixed points.
"The beneficiaries come at the beginning of the shift, they hand over their clothes to us, we record some key demographics and they can come and pick them up clean within a few hours.
"Our daily presence in the field has created bonds of trust with our beneficiaries, as they see that there are people who are by their side, listen to them and try with them".
New obstacles arise every day in the ambitious effort of "Ithaca Laundry". "Unfortunately, seeing the deterioration of living standards and unemployment remaining high, we understand that many families will be affected and will no longer be able to meet their basic obligations. Such an important need is also the increase in the price of electricity. Scaling up all of the above entails increasing needs and challenges.
"As Ithaca, we constantly want to evolve our facilities and our actions in order to respond to the new conditions and to be next to those who need us. So while we started in 2016 as a mobile laundry unit that gives access to clean clothes, today, we don't just provide that. We have also added the service of psychosocial support, work counselling, while through the work reintegration program, we give the opportunity to people from socially vulnerable groups, to dream of a new, better life.
"Changes and challenges will not stop happening around us, but we, as Ithaca, will not stop giving our best and standing by our fellow human beings who need it," says Ms. Kountouriotou.
The contribution of "THI Australia"
"The Hellenic Initiative Australia" has shown a valuable work of solidarity and assistance in Greece. "Ithaca Laundry" is the last attempt to contribute to an important cause. Dimitra Kountouriotou explains to the "Greek Herald" how the collaboration took place.
"In the past, we have had the pleasure of developing cooperative ties with America's THI. Through this, we have been in contact with THI Australia and since March 2022, we are honoured to have such a remarkable partner by our side.
"THI Australia, through its contribution to Ithaca, will support our second pillar of action, that of employment reintegration. In particular, we are given the opportunity to be able to secure a paid position in the field, lasting twelve months for a person who belongs to a vulnerable social group.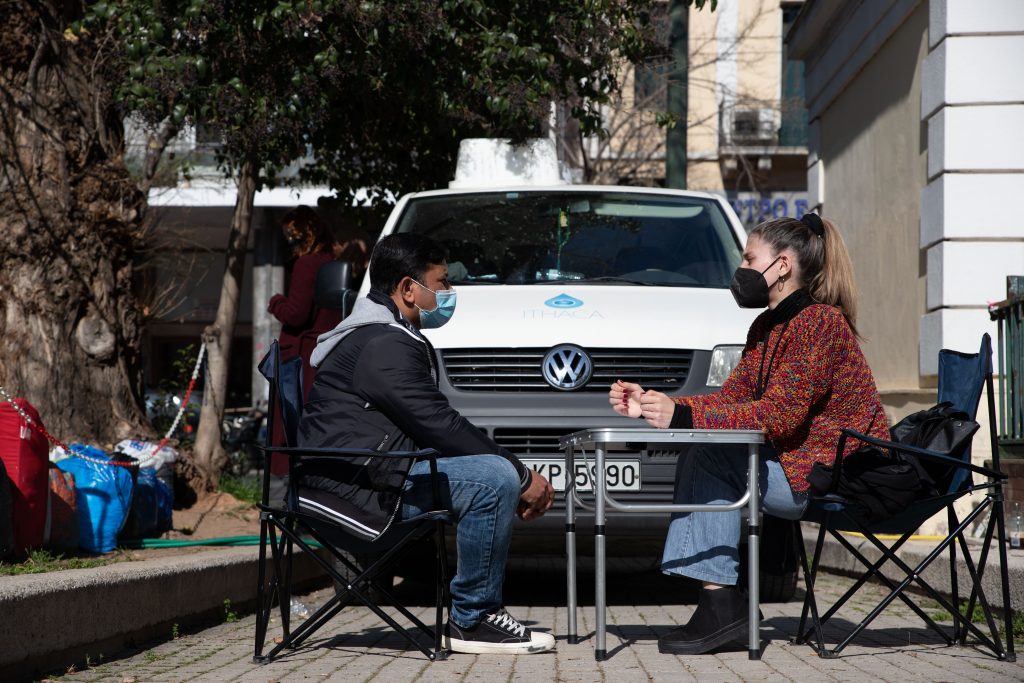 "With Ithaca's employment Reintegration Program, as we mentioned earlier, this person will be able to start working at Ithaca.
"In this way, he is given the opportunity, after a period of abstinence from a work environment, to develop new skills and capabilities, while strengthening the existing ones, through taking on responsibilities, observing a certain schedule and interacting with other people.
"In addition to the above and aiming at a more holistic approach, the work Consultant of our team supports the employee with work counselling and empowerment meetings.
At the same time, we are building a network of partners with companies and organisations, aiming at their absorption in the labour market with the completion of their program to us".
Ithaca Laundry continues to set its dreams in motion as it helps thousands of our fellow human beings. "We have already started a survey and registration of needs in areas outside Attica, to expand our action geographically and we have developed the job counselling and support service for people from vulnerable groups.
For us, Ithaca and the Mobile Unit are the means to achieve all of the above and we really hope that in this difficult "journey" we will be companions of these people and we will be there until they find their own Ithaca again".