The third series of My Greek Odyssey will hit our screens this weekend and it's definitely not going to disappoint with its picturesque scenes of the beauty and splendour of the Greek islands.
Set to air on Sunday, June 21 at 2pm on Channel 7TWO, the 8-part travel series invites viewers to several little-known Dodecanese islands including Kos, Astypalaia, Farmakonisi and Lipsi. The geographical location not only means that the Ottoman influence is strong, but the landscapes are much more arid, hot and dryer than other parts of Greece.
To tell us more about what to expect, The Greek Herald spoke exclusively with Peter Maneas, the charismatic host of My Greek Odyssey, and he says this third series has to be his favourite so far.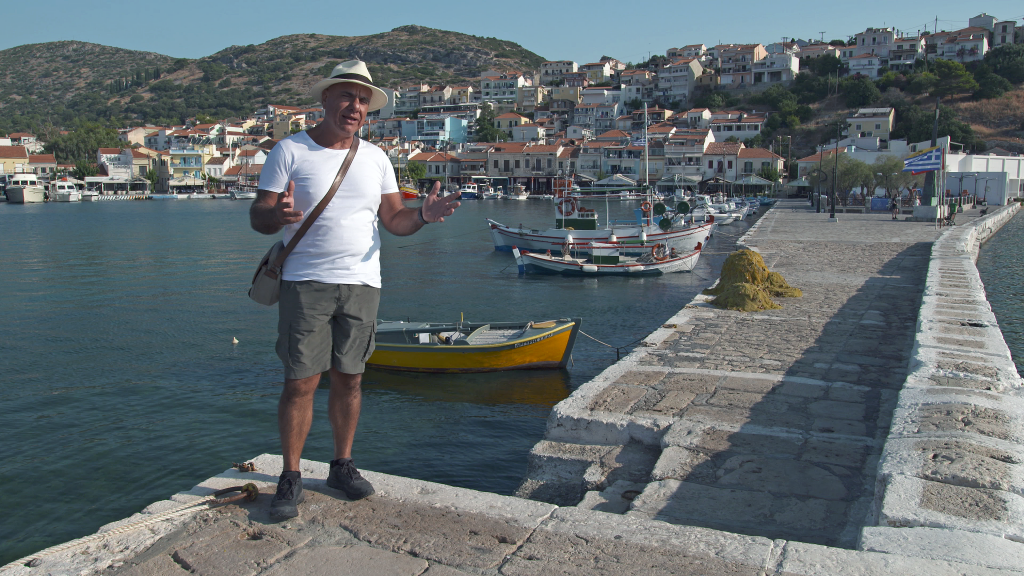 "There are so many standout moments for me. We went to Farmakonisi for instance, which is a military island and no one is allowed on it. It's only a square kilometre and it's so close to Turkey that they need to put someone on it because if they don't, it will probably be taken away," Peter tells The Greek Herald.
"We got to see the raising of the Greek flag on the island, which happens every morning as the army plays the national anthem. And we also found some 2500-year-old watchtowers on the island that even the army guys didn't know about. It was amazing."
Peter's frequent travels to Greece as a child inspired him to explore Greek islands like Farmakonisi, which are not as popular with tourists, and present their rich cultural and historical heritage to the world.
"I've had my super maxi 'Mia Zoi' (One Life) docked in Greece for the last ten years and I'm not the kind of person who can just sit on a boat sunbaking and doing nothing," Peter explains.
"So I've now travelled to well over 150 Greek islands and when you see the things that I have seen, it's just not fair to the people that haven't had access to these places. It's just not fair to the Greek islands and to the public out there not to record this and to not show it in a way that anyone from five to 90 can watch it and understand it."
According to Greek tourism experts, Mykonos, Santorini, Corfu, Crete and Rhodes end up getting 40 percent of the 30 million tourists that go to Greece per year. But Peter says the beauty of this season of My Greek Odyssey is that it has really captured the hidden gems that tourists can find on Greece's remaining 222 inhabited islands.
"I see so many people going to the big islands and they crowd them to the extent that some people go there and are like: 'Is this the Greek islands? This is like going to Disneyland.' And that's not what the Greek islands are about," Peter says.
"I mean in this series, we go to a tiny little island of Pserimos which has one beach that gets invaded every day by hundreds of people who visit from the bigger islands. But after 3pm, there's nobody left except maybe 100 hard and fast tourists that spend their whole holidays there.
"We met one couple from the UK who have been going to Pserimos for like 20 years and when we asked them why they kept visiting the tiny island, they said it was about the people. They connect with the people.
"There's different types of people everywhere but the smaller the island, the fewer tourists, the more visitors, the more homely they are, the more local the food is. And that's what we try to look for."
It's these heart-warming stories of the Greek people, filoxenia, Greek culture and heritage which people across Australia will also be looking out for when My Greek Odyssey hits our screens this weekend.
Read this article in Greek in The Greek Herald's print edition on June 17.