With a theatrical performance based on one of the finest literary works of Greece's National Poet, Dionysios Solomos, as well as hymns, traditional songs and dances, Port Adelaide Greek Orthodox community kicked off a series of events to commemorate and celebrate the 200 Years from the beginning of the Greek Revolution.
The sold-out play, titled "The Women of Mesolongi" held on Sunday afternoon, at the historic Woodville Town Hall was attended by more than 300 audience and dignitaries.
Among them, His Grace Bishop Silouan of Sinope, Fr Ioannis Choraitis, Consul General of Greece in Adelaide George Psiachas, Irene Pnevmatikos member of the Legislative Council of SA, John Kiosoglous MBE as well as councillor of City of Mitcham Andriana Christopoulos.
'We need to remember our history'
According to Port Adelaide Greek Orthodox Community President, John Douvartzidis, this event was not only an opportunity for Adelaide based Hellenes and Philhellenes to learn more about this part of Greek history but also for the next generation of Greek Australians to learn more about their history and roots.
"We always need to remember our history," Mr Douvartzidis told The Greek Herald.
"Things have been hard with COVID and our festival was cancelled earlier this year but we are a tight knit community and very proud for what we have achieved.
"We are like a big family and we like to have a good time while educating our kids about their language and culture," he said.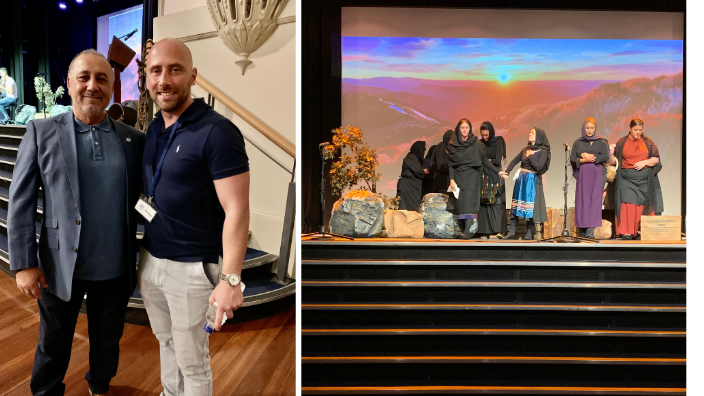 Varvara Solomos: A descendant of the Solomos family
Talking about the importance of the theatrical play 'The Women of Mesolongi' director and performer Kostas Fotiadis explained that with this story, set in Zakynthos in 1826, the national poet wanted to criticize the behaviour of aristocratic circles on the island towards the women of Mesolongi.
"We want to show our kids what 1821 was about and the fact that so many students from the Port Adelaide Greek community school are participating is very encouraging," said Mr Fotiadis.
One of the highlights of the event was 17-year-old Varvara Solomos, a sixth-generation descendant of the family of Dionysios Solomos who recited an excerpt of the most famous poem of Dionysios Solomos, 'The Free Besieged' (Greek: Οι Ελεύθεροι Πολιορκημένοι, Oi Eleftheroi Poliorkimenoi).
"I feel blessed that I am a part of this culture and history and I am able to educate people and tell them about my family.
"Knowing not only Greek history, but history in general is important as this is the way for us to evolve and progress," Varvara told The Greek Herald.
The event concluded with traditional dances performed dances performed by the community's Greek School students.
*An additional performance of the play "The Women of Mesolongi" is scheduled for Sunday, February 28. All proceeds go towards The Port Adelaide Greek Orthodox Community. For more information and bookings call Alexandra on 0435 166 456 or Dimitra on 0451 107 052