The Oakleigh Grammar School begun the academic year with an Agiasmos, giving students and staff an opportunity to start the new school year with optimism, having received the blessings for a year full of progress and prosperity.
Due to the Victoria's COVID-19 restrictions, the Holy Communion that took place on Tuesday, February 9 was a little different for each school unit.
On Tuesday morning, the students of the Lyceum had the opportunity to attend the Agiasmos performed by the Most Reverend Bishop of Dervis, Mr. Ezekiel, assisted by the Most Reverend Fr.
Mr. Ezekiel spoke positively about the Oakleigh Grammar School and stressed to the students that it is a blessing to be part of such a large and active community. In addition, the Bishop pointed out to the students how important it is to walk the right paths always close to the church. Finally, he asked the students to work hard on an academic, physical and spiritual level in order to achieve their personal goals and offer remarkable projects to the wider society.
Mr. Ezekiel did not fail to convey the paternal love and blessings of the Archbishop of Australia, Mr. Makarios, who hopes to visit Melbourne and the Oakleigh Grammar School in the near future.
The Agiasmos was also attended by Christos Damatopoulos, Chairman of the Steering Committee of the Oakleigh Grammar School, and Treasurer Sotiris Vassos.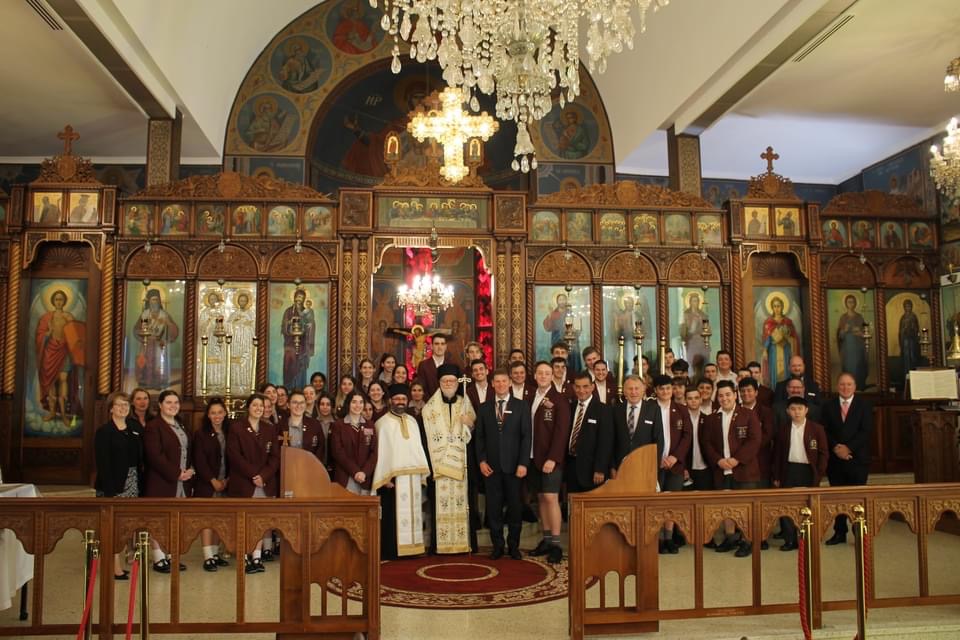 After the end of the Holy Communion, the Principal of the school, Mark Robertson, hosted in his office Mr. Ezekiel as well as the members of the Administrative Committee. The leaders of the student body, Evangelia Athanasaki and Alexander Logan, had the opportunity to talk with the Most Reverend Bishop of Dervis and to give him a souvenir gift from the school.
Shortly before noon, the Most Reverend Fr. George Adamakis visited the elementary school to bless the young students.