Nick Bonovas is an exceptionally talented self-taught artist based in Sydney. From a tender age, he discovered his inherent artistic inclination and eagerly delved into the world of drawing and experimenting with various paint and art mediums. His creative journey has been infused with an ardent passion for Greek art, which serves as his primary source of inspiration. Imbued with the essence of Ancient Greece and complemented by his unique artistic vision, his works also explore other diverse genres, showcasing the breadth of his artistic versatility.
Nick's artistic prowess has earned him commendable recognition, leading to numerous commissions to paint, draw, design, and create murals for a myriad of cafes, restaurants, and private residences, both within Australia and across international borders.
A highlight in Nick's career has been the honour of exhibiting his captivating artworks at esteemed venues such as the Greek Embassy in Canberra. His works have also graced the walls of The Hellenic Club in Canberra and the 'Hellenic Inspirations' Tap Gallery exhibition in the artistic hub of Sydney.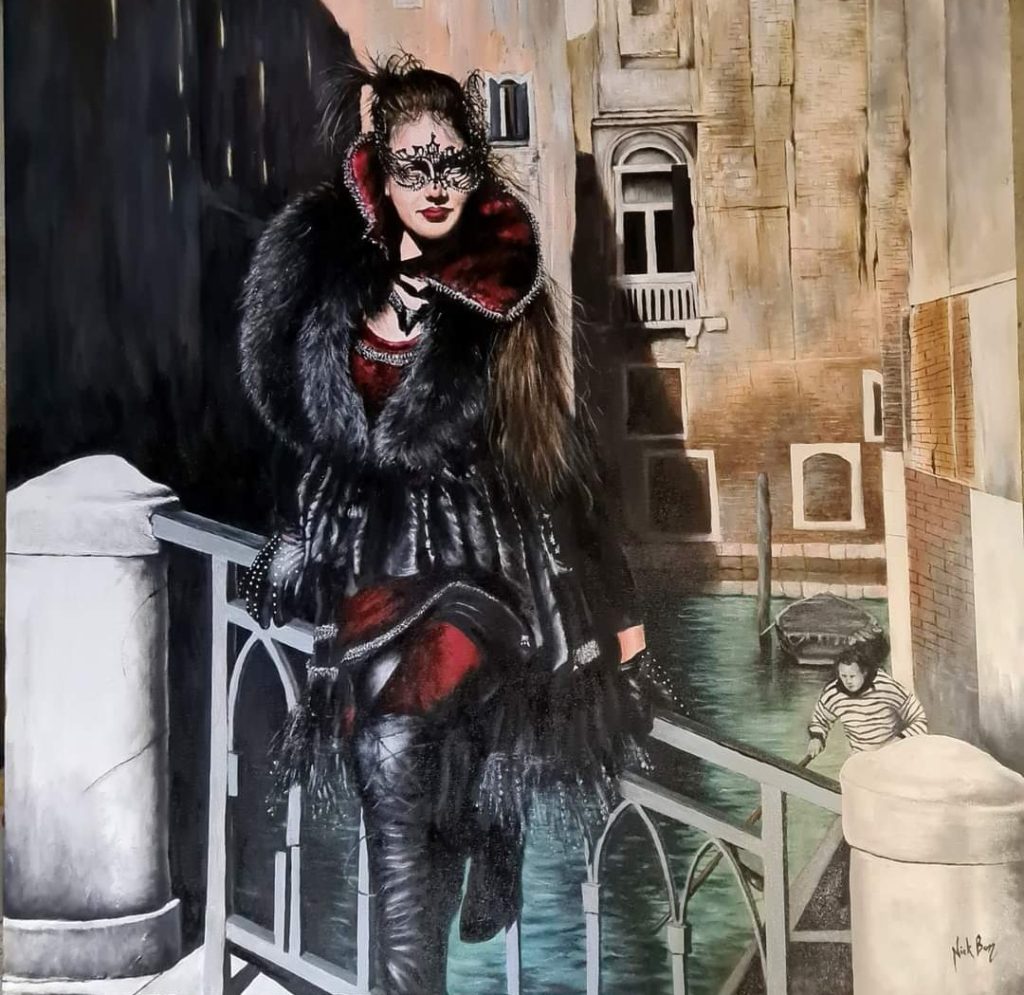 For Nick, art is not just a mere hobby or profession; it is an inseparable part of his very existence. His passion to create is beautifully evident in the intricate murals he has painted, two of which now grace the walls of café restaurants in Greece, a testament to the far-reaching impact of his creative spirit.
More recently, Nick has been working on a mural-size canvas that encapsulates the richness of ancient Greece and the vivid portrayal of people from that era. It is a commissioned piece that will be on permanent display at 'The Great Taste of Greece' restaurant, Sydney. The magnitude of this project reflects his dedication to preserving and celebrating the cultural heritage that continues to inspire him.
While Nick's expertise spans various artistic expressions, figurative art holds a special place in his heart. Through his brushstrokes, he skilfully captures essence and emotion as depicted in in these images.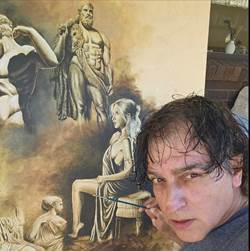 In addition to being an accomplished artist, Nick is counted among the many Greek Australian artists who have taken part in the GAAD (Greek Australian Artist Directory). An initiative by the Greek Australian Cultural League (GACL), the GAAD was designed to celebrate Greek Australian artists. It serves as a platform to showcase their exceptional artwork and contribution to the Australian arts landscape. The directory also embraces artists from different backgrounds, both past and present, whose artistic expressions have been influenced by Greek culture. It is an important resource for curators, collectors, researchers, and art enthusiasts eager to explore Greek Australian art.
At its core, the GAAD stands as a guardian of cultural identity and historical significance. By preserving and promoting the artistic legacy of Greek Australian artists, the directory ensures that their talents are duly acknowledged and cherished. It cements their place in Australia's artistic narrative and bolsters the enduring connection between the Greek Australian community and the wider cultural landscape of the country.
Interested artists can register their profiles by visiting www.gacl.com.au and clicking on the dedicated GAAD section.
For any inquiries related to the GAAD, individuals can reach out to GACL President Cathy Alexopoulos at 0428 968 715 or GAAD Co-ordinator Vasy Petros at 0412 242 557.
For a glimpse into Nick's ongoing artistic endeavors, visit his website http://www.nickbonart.com/ or on Instagram @nick.bon.art
*Written by Vasy Petros. This is a Greek Australian Cultural League Initiative supported by The Greek Herald.