By Mary Sinanidis
A serendipitous moment led to a 77-year-old Melbourne woman's fundraising appeal for orphaned, missing and abused children in Greece.
While on holiday in Greece in 2010, Betty Athanasakis went to visit her husband Panagiotis' nephew, a priest living in Kareas, Athens.
"He wasn't home, so I took a walk around the neighbourhood and saw a sign outside a house, 'The Smile of the Child'," Betty tells The Greek Herald.
"I had heard about this child welfare organisation on TV, so, being partial to children and having some time to kill, I knocked on the door. They didn't allow walk-ins but I convinced them to let me visit because I was from Australia."
It was love at first sight. Betty left that day with a promise to gather as much money as she could to help the non-governmental organisation. Thirteen years later, her eyesight may be failing, but her efforts have not waned.
This year's annual fundraiser is being held at the Pallaconian Club in Brunswick on Saturday, November 18 at 7pm. Doukissa will be singing, and Pierre Kairouz, her son's friend, has donated six lambs – five for guests to eat on the night and one to auction off.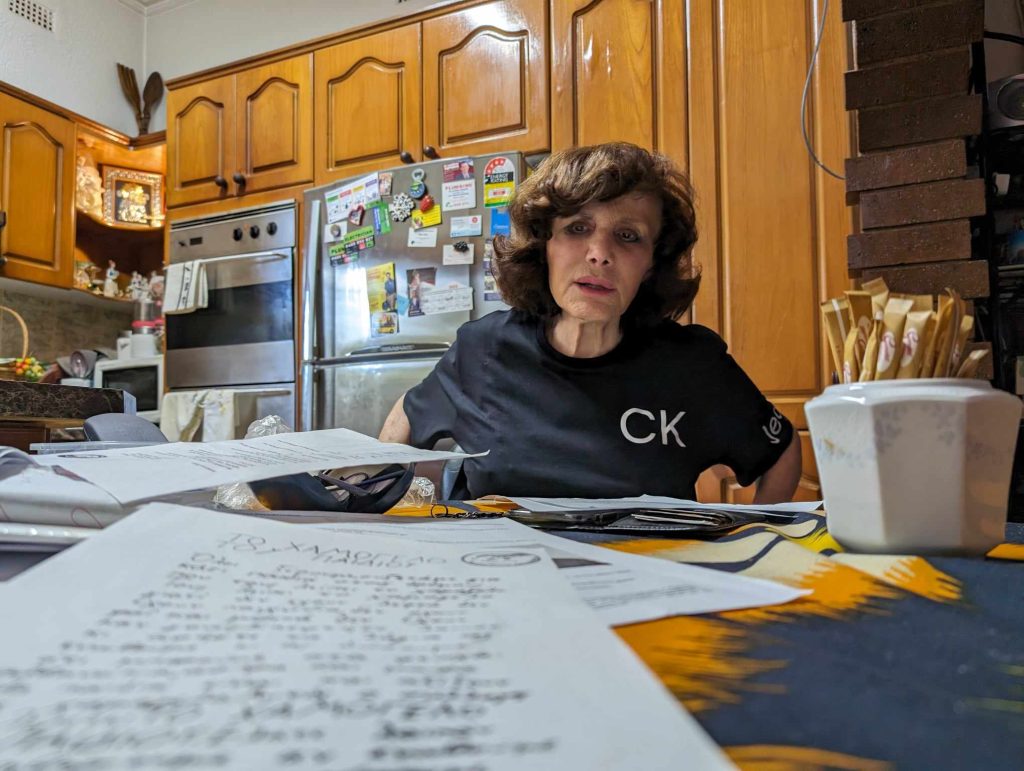 Surrounded by paperwork, Betty confesses that the hardest part is knowing where to seat people.
"Why not just let them sit where they want," I suggest. She scoffs at the suggestion.
Last year, the dinner dance raised $23,000 in profits.
"People donate because they know that 100 per cent of the money goes to the kids. We have proof," she says, but laments when there is mudslinging against the NGO's founder Kostas Giannopoulos by the Greek press.
"I have been to his house in Maroussi and he does not live in luxury. It's a simple lifestyle. Nothing fancy."
Furthermore, the organisation is well-connected with international collaborations with law enforcement agencies.
"Actress Mary Chronopoulou, an intelligent and talented woman, would not have bequeathed money in her will to an organisation she suspected of foul play. I'm with Mary on this one," Betty says.
Deathbed promises:
The Child of the Smile had been created after a deathbed promise Mr Giannopoulos made to his 10-year-old dying son, Andreas, who led a public 18-month struggle to stay alive. Little Andreas had wished for the creation of an organisation to help children.
Betty knows the importance of deathbed promises.
"My late husband, Panagiotis, would help me organise our fundraising dance. He was so supportive but died of cancer four years ago. In his dying breath, he said, 'Betty, you must continue to help the children'," she explains.
Apart from the promise she made to her husband, Betty also means to keep her word to the children she has met along the way.
"They send me cards with heartfelt words," she says.
One of the children Betty had met on her first visit in 2010 is now a university graduate who still rings her up for a conversation and to let her know how he is.
"He stole my heart when I first met him. All he wanted was a bit of love, and he asked me if I was there to take him home," she says, her eyes a little teary.
It's a family affair, with her daughter setting up the tables, and her son Leo Athanasakis, a well-known accountant and former president of South Melbourne Hellas, helping her out. Her grandkids will be there too, making the fundraiser an intergenerational event.
Betty remembers the early years when Costa Tangalakis from Kinisi Live would send her entertainers to perform at the fundraiser until midnight free of charge.
"That's how we got the likes of Angelos Dionysiou to entertain guests," she says.
"Jenny Mikakos, the former health minister, would support our event, and one year, the Greek Ambassador came. He read about it in the newspaper and just showed up."
Newspapers in Betty's life:
No stranger to being in the newspaper, Betty recalls being voted Miss Patris on the migrant ship bringing her to Australia after leaving her hometown in Sparta. A good-looking young girl, she had been snapped by a photographer and made the front page of the mainstream media on the first day of her arrival in 1964.
"It was awful because they wrote that I came to Australia in search of a husband, but I was already in love with my Panagiotis, a man from the nearby village, who later followed me to Australia," she says.
"Men back then outnumbered girls by 10 to 1, and marriage offers came by the droves from men all around Australia, which I really didn't want."
Things settled down when the rest of her family joined her, with her husband starting a billiards and entertainment hall in Frankston.
"A lovely area… we'd visit from Brunswick with the kids over summer and would go for a swim," Betty says.
A stylish woman until this day, Betty worked as a Collins Street fashion designer when she came to Melbourne.
"My mother had been a seamstress and had taught me to sew," she says, adding that this came in handy though she lost her mother soon after she got married.
"My father was well-educated, spoke many languages, and wrote satirical news for Theodore Skalkos' newspaper, and was very proud to work for Skalkos (publisher of The Greek Herald). His column was called Romios, and everyone in Melbourne read it. He wouldn't let me read it, however because he thought the content was unsuitable for young ladies."
She adds that times have changed.
"It wasn't right that things were so strict back then, but it's not so great today either that morals have slipped a little," Betty says.
One thing that hasn't changed is the children in need.
"I hope to continue helping them for as long as I can, and I hope that I can convince as many people as possible to come along and help me," the 77-year-old concludes.
The Pallaconian Brotherhood is at 253 Albert Street, Brunswick. The fundraiser takes place on Saturday, 18 November, 7pm, with tickets at $65 ($30 f.or children under 12). For more info, contact Betty Athanasakis on 0411 568 818 or Sophia Merkoulia on 0425 725 237.