Only one of eight Australian karatekas – one for each division – get the chance to qualify for next month's Tokyo Olympic Games, but that wasn't going to stop karate heavyweight Maria Alexiadis OAM from taking her chance.
"This is the first and likely the last time we will get to show off our sport on an Olympic stage," she tells the Greek Herald off the back of her Olympic qualifier event in Paris.
"I feel extremely grateful and privileged to be in the position I am in and to be representing my country on the biggest stage for our sport," she says.
Maria Alexiadis OAM is a Karate Victoria (KV) administrator, coach, and athlete, who says her work in the field of the ancient martial art is inspired by her journey in a male-dominated sport.
"[The Olympic qualifier is] a tall ask for Australian athletes in an amateur sport that is not funded in Australia, but we love what we do and dare to dream," she says.
"…I feel like I can genuinely make a positive difference to the sport and lives of others."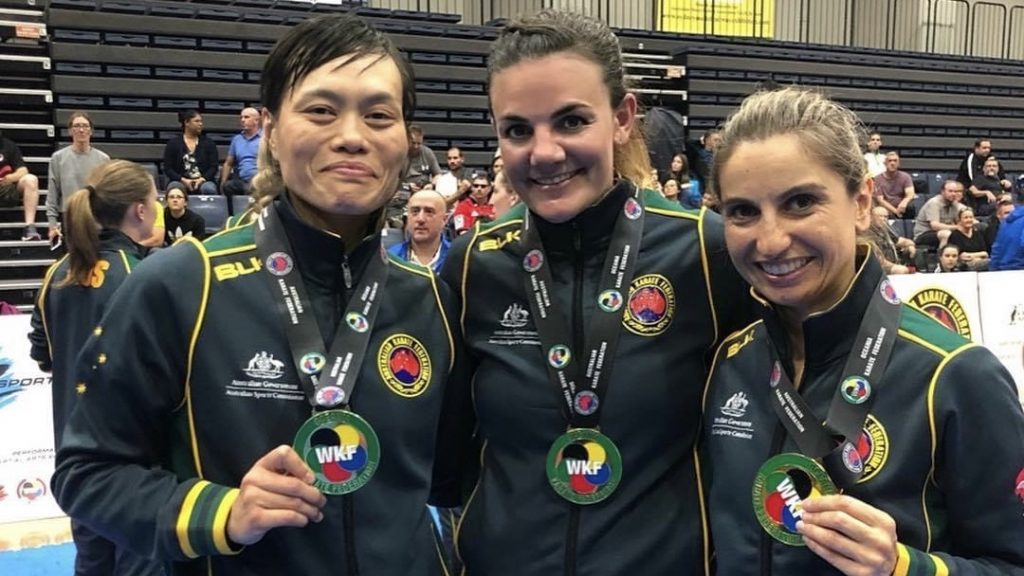 Maria Alexiadis was recently recognised on the Queen's Birthday Honours list for her 33-year strong run in competitive karate.
"I honestly kept checking to see if the letter sent by the Governor General's office was sent to the wrong person," she recalls.
"To think that people took the time to nominate me for such an award is an altruistic act and an honour," she says.
Alexiadis is a highly accomplished athlete, awarded for her services to karate on a state, national, and international level, but says it is her Greek heritage which has helped shape her to be the person she is today.
"I hope that the Greek Australian community are as proud and inspired by my recognition as I am of my Greek heritage," she says.
"Greek Australians have done and continue to do a lot of good for this amazing country of ours."
"May this award continue to inspire and encourage people to work hard, persevere, aspire, and dream."
The best of both worlds
Alexiadis says when she's not kicking butt on the dojo, she's researching a rare ovarian cancer at the Hudson Institute of Medical Research in Melbourne's south-east.
Granulosa cell tumours (GCT) of the ovaries are malignant, endocrine tumours – meaning they make and respond to hormones – which slowly develop over time.
Hormones Australia says around 60 women in Australia will be diagnosed with GCT this year.
Alexiadis' work aims to identify the genetic factors which lead to this potentially fatal cancer and says sport and science "both help build stronger, healthier and happier communities".
"It isn't easy balancing it all but I enjoy the different challenges each area brings, the problem solving and helping make a positive impact and difference to people's lives," she says.
She says she hopes she will be remembered for being "kind, brave, compassionate, driven, and ambitious" in 10 years.
"I hope I'm best remembered as… the person who really believed that impossible is nothing, who 'walked the talk', ignored the naysayers, and made a positive impact on the lives of others," she says.