The Kyrgios family received a message of thanks from the Samian Association of Canberra and Districts for their support in raising money for Samian Earthquake relief fundraiser, which was held last month.
Nick Kyrgios' brother, Christos, donated signed merchandise from Nick for the fundraisers live auction, which helped raise close to a total of $20,000.
"The Samian community from both Canberra and Sydney came together as well a wonderful turnout from the broader community to raise funds to help our island of Samos rebuild some of its infrastructure after a 7.0 magnitude earthquake hit the island last October," a letter from the Samian Association of Canberra and Districts, which was sent to Christos, read.
The earthquake brought devastation to the island and neighbouring country of Turkey, with both countries suffering a combined 119 fatalities, also leaving 1,053 injured and 15,000 homeless.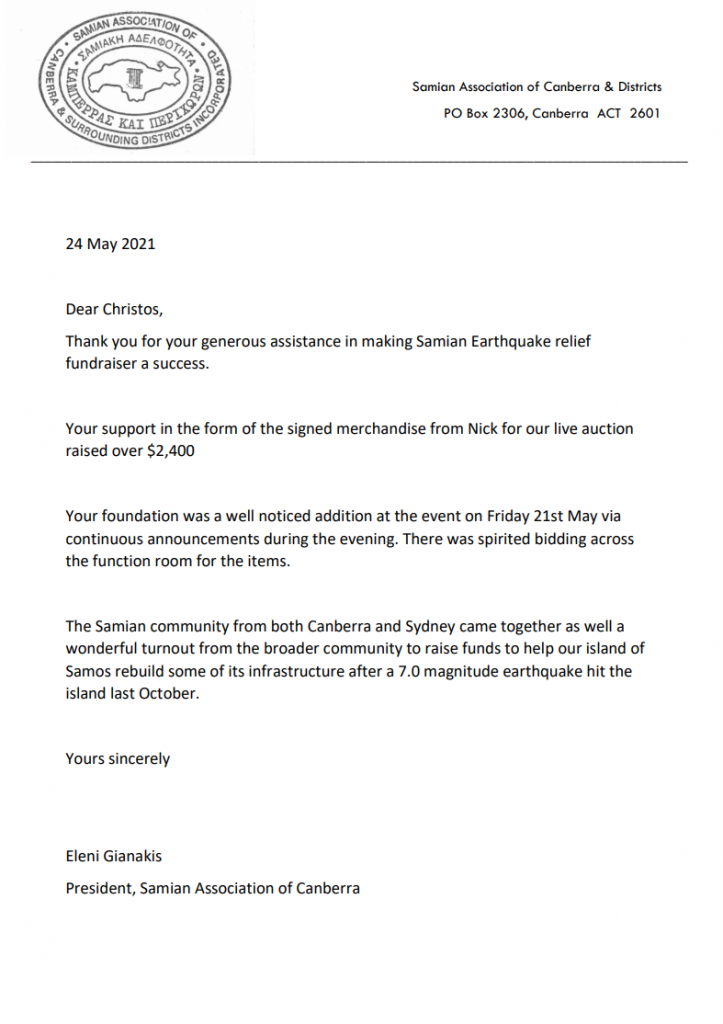 Buildings in Samos suffered severe damage, particularly in Karlovasi where a large church had partially collapsed. Following the earthquake, Samos was also affected by hundreds of aftershocks and flooding from a tsunami, which also rocked the islands of Ikaria, Kos and Chios.
Samian Association President, Eleni Gianakis, told The Greek Herald she was very thankful for the Kyrgios family and wider Greek Australian community in Canberra for their generous donations.
"It was a really good night, the community came together and supported us," Gianakis said.
"I was very humbled that they came, that local businesses and the Kyrgios Foundation supported us without a doubt. I sent them an email and they got back to me straight away."
READ MORE: Samian Association of Canberra plans fundraiser to support victims of Samos earthquake
READ MORE: NK Foundation inspiring tennis community with new facility development in Canberra
The Samian Association President said they are now organising where to send the raised funds.
"We'll know exactly where the money will go. We're not going to send it until we know it's going to the people that need it," Gianakis said.
"We're just trying to assist in any way we can."
The donation was made with support of the Nick Kyrgios Foundation, which was set up by Greek Australian tennis star to offer sporting opportunities, support services, education & training pathways, low-cost accomodation and solutions for underprivileged youth.
Kyrgios was born in Canberra to a Greek father, Giorgos, and has previously talked about his proud Greek heritage, having close relations with fellow Greek Australian tennis player Thanasi Kokkinakis and World No. 5 Stefanos Tsitsipas.
"We are proud to have been able to support the Samian Association of Canberra & Districts in fundraising for their relief efforts following the devastating earthquake," the NK Foundation said in a Facebook post.
"Stay strong, we send our thoughts and prayers to all those families affected."
The NK Foundation made its first steps as a government funded initiative in September last year after securing funds to develop a Gungahlin tennis facility in Canberra. The Foundation is looking to create more tennis facilities in disadvantaged regions in Australia.
"For the first time, I feel like there is a reason for what I am doing. Tennis is a great life – we are well paid and the perks are pretty good – but it can feel empty if you're just doing it for the money," Nick Kyrgios said about his Foundation.
"I now know what it's all for. When I work on the NK Foundation and our Melbourne facility, I cast my mind forward to all the disadvantaged kids I will be helping. I'm playing for them now."