One of the last things a traveller from Australia would expect to see when they visit the Greek island of Lesvos is a 2023 election campaign poster for the NSW Minister for Industrial Relations and Member for Canterbury, Sophie Cotsis MP.
But that's exactly what author and Ms Cotsis' brother, Billy Cotsis, saw when he visited the local historian's office in the Lesvian village of Skoutaros and met with Mr Giannis.
Mr Giannis was the Skoutaros village tailor but has since retired and now spends most of his days compiling log books of well-known politicians, doctors and lawyers from the Lesvian diaspora around the world.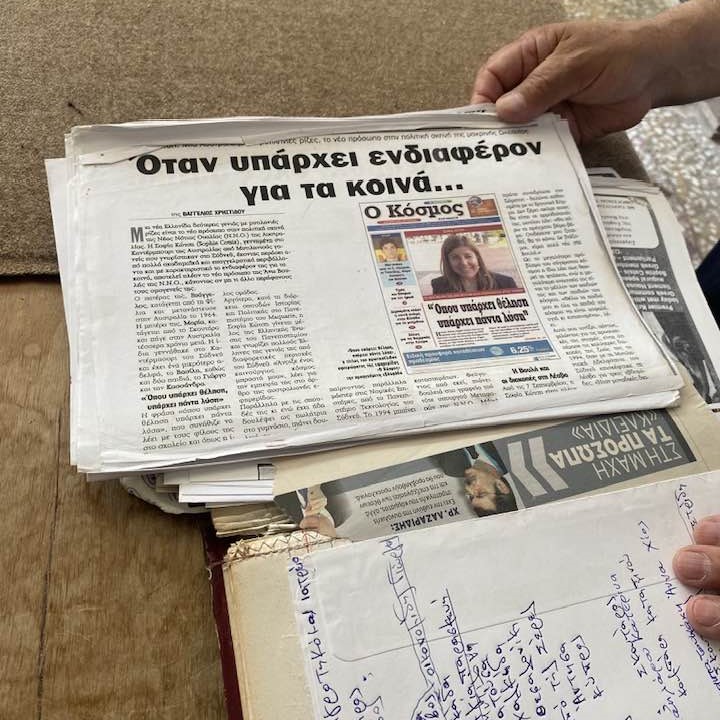 "Mr Giannis, and I don't know his surname even though I've known him since I was a kid, is fascinated with how our village produces so many good people," Billy tells The Greek Herald.
"We had one man who owned first division football team Kalloni FC and a number of people who did well in business in Australia. Even the first White House chief of staff… for Trump, Reinhold Richard Priebus, was of part Lesvos heritage and he may even have blood from my region in Lesvos."
Alongside these influential Lesvians, a book by Billy titled 'From Pyrrhus to Cyprus' can be found amongst Mr Giannis' collectables.
The NSW Labor election poster for Ms Cotsis has also been in Mr Giannis' office for at least 12 years, despite him never having visited Australia.
"He was telling me how my sister was big news when she was re-elected and made minister [this year]," Billy concludes.
"Giannis is one of the most beautiful men I've met, a credit to my village."