From Greek dancing by the Canberra Hellenic Dancers to Greek music by Kefi band, the Greek culture and heritage was on full display at the National Museum of Australia on Thursday night.
Over 100 VIPs were in attendance at the National Museum to catch a glimpse of the new Ancient Greeks: Athletes, Warriors and Heroes exhibition which has just opened to the public and will run until May 1, 2022.
Among these special guests were people such as the Ambassador of Greece to Australia, George Papacostas; the ACT Minister for International Development and the Pacific, Zed Seselja; the ACT Assistant Minister for Economic Development, Tara Cheyne; His Grace Bishop Bartholomew; the President of the Greek Orthodox Community and Church of Canberra (GOCCC), John Loukadellis; and the President of the Hellenic Club of Canberra, Andrew Satsias.
On the night, these guests were first treated to a Welcome to Country by Ngambri Custodian, Paul House, before a number of officials stood to give speeches, including the CEO of the National Museum, Dr Mathew Trinca; the Director of the British Museum, Dr Hartwig Fischer; Minister Cheyne; Australian journalist, Mary Kostakidis; Senator Seselja and Bishop Bartholomew.
Ms Kostakidis spoke proudly of her Greek heritage during her speech, praised the National Museum for holding the Ancient Greeks exhibition and spoke briefly about the Parthenon Marbles dispute between Greece and the British Museum.
The Bishop, along with the parish priest of St Nicholas Greek Orthodox Church in Canberra, Father Petros Kipouros, also did a small blessing ceremony for the exhibition.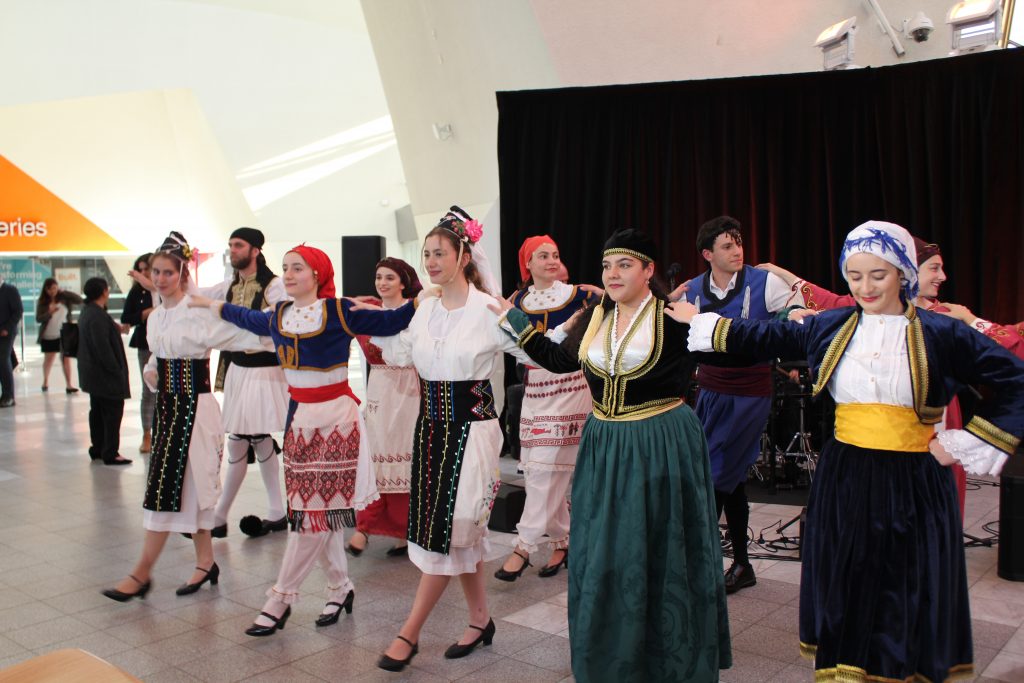 Following this, attendees were invited to view the exhibition and its 170 artefacts from the British Museum's collection of Greek treasures dating from 800 BCE to 200 CE. Whilst this was happening, the Canberra Hellenic Dancers gave an amazing Greek dancing performance to music by Kefi band.
Later, people moved into a never-before used gallery in the National Museum for a formal sit-down dinner catered by Broadbean Catering, which is owned by Savvas Dimarhos. Attendees were served incredible food including a mouth-watering baklava ice cream.
All in all, it was a fantastic evening enjoyed by everyone in attendance.
Ancient Greeks: Athletes, Warriors and Heroes is at the National Museum of Canberra from 17 December 2021 to 1 May 2022. Tickets $28. For bookings see: https://www.nma.gov.au/exhibitions/ancient-greeks.
* All photos copyright The Greek Herald / Andriana Simos.