As recent graduates, Chloe Dimopoulos and her boyfriend, Ben Munro, booked a one-way ticket to India with the hope of travelling around the world. However, their plan was turned upside down as the coronavirus outbreak left them stranded in a country they didn't know much about.
At one stage, Chloe was overcome with a fever, body aches and chills. Fearing the worst, she visited a doctor who recommended she go to hospital. The rest is history. As India was implementing the world's biggest lockdown, Chloe and her boyfriend were being moved from one hospital to another, unable to escape. While her test results ended up being negative for the virus, it was still too late leave. Her only hope of returning to Australia was the small group of volunteers who were desperately organising private chartered flights.
Was she able to get on one? Today, she tells me how she overcame one of the scariest experiences of her life.
Why were you in India and how long were you there for?
As my boyfriend and I had recently graduated, we booked a one-way ticket to India and planned on doing a big around-the-world trip. We arrived in Delhi before the tourist ban was issued on March 12 and ended up in a hospital on March 16. We were confined to either a hospital or hotel for the rest of the trip – until our repatriation flight out of Delhi on April 12.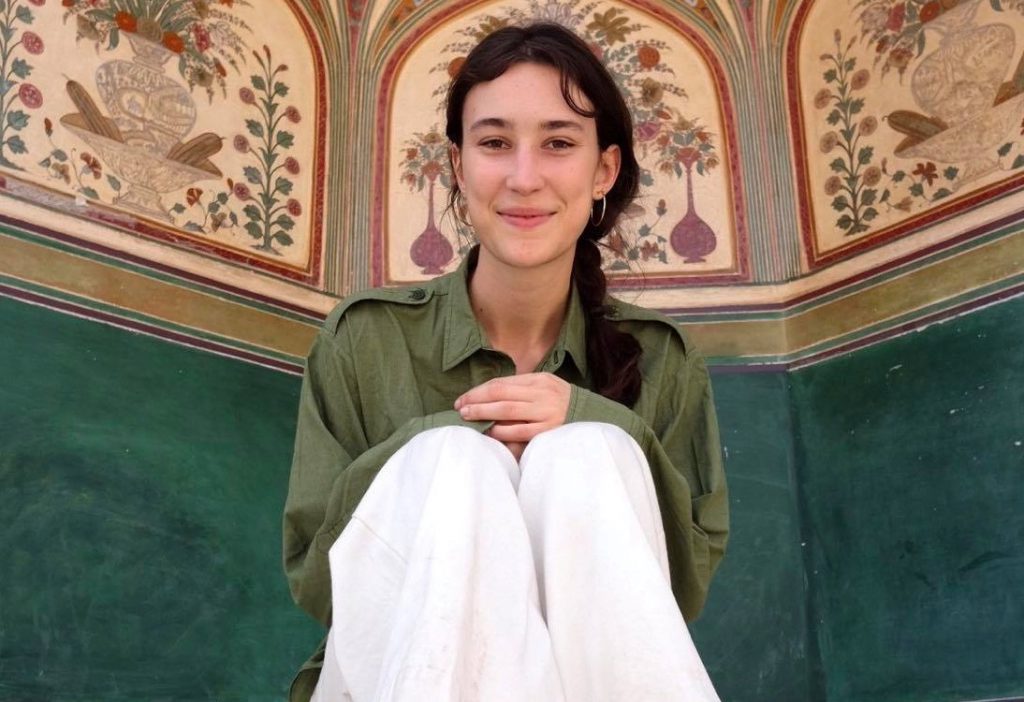 What happened to you in India? You mentioned you became sick.
We were staying in Jaipur but one night, around 11pm, I woke up with a fever, body aches and chills. Ben was adamant that I should see a doctor. At the time, there was a noticeable prejudice towards foreigners. People were yelling 'Corona' at us on the street. We felt an instant paranoia due to the fact that the virus was all anyone could talk about, so we thought that by getting a test we were doing the right thing. What followed was a string of unfortunate events.
Initially checking into a private hospital, they didn't have the proper facilities to accommodate COVID-19 suspects, so they transferred us to a public facility. I've never seen anything like it. There were people everywhere with minimal hospital beds and staff, and patients were huddled over on the floor. No one took my temperature or asked how I was feeling. I was shunned and forced into a cold, tiny room where I would wait for three hours. Some flimsy paperwork was finally handed to me and we were advised to go to the Infectious Disease Hospital.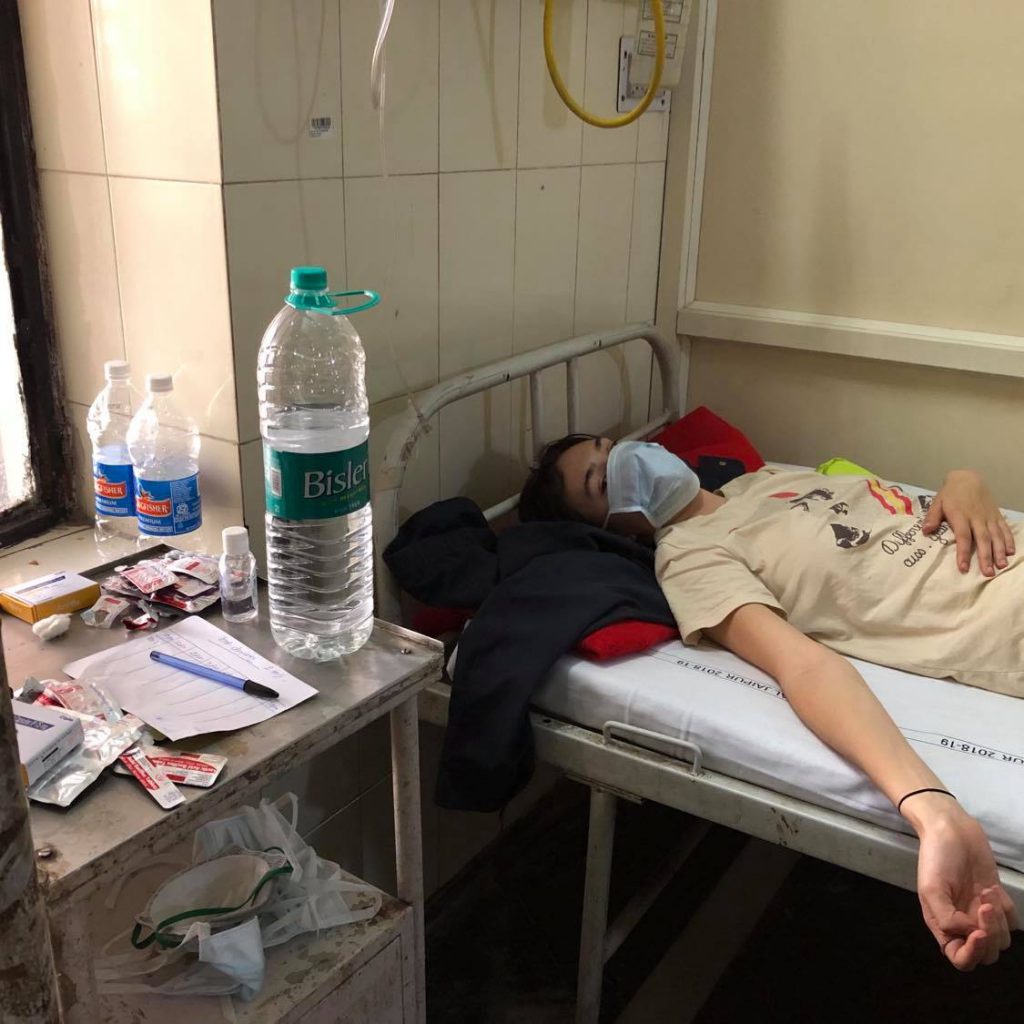 When we arrived at about 2am, I saw the most confronting scene I've ever experienced. The doctor was unnecessarily hostile, blaming me for spreading the disease (which I did not have). Everything was covered in filth. Of the rickety beds that did possess sheets, they were stain-ridden with blood and faeces. The drop toilet was infested with mosquitoes and a chemical stench permeated the entire building. After 2 days without being fed, we got our tests results back and found out we had both tested negative to COVID-19. We falsely assumed they would discharge us and things would return back to normal.
Alas, the doctors were now incoherently making out that we were being transferred to another hospital to quarantine for 14 days. It was nonsensical and no one could explain the protocol. By this stage, my fever had been eradicated as well. I was healthy, outraged, shoved into the back of an ambulance and forced to spend the next couple of weeks locked up in a derelict building with poor hygiene.
When the country went into lockdown, how did you feel? Did you attempt to get out before the borders closed?
We were in this new hospital for about 4 days before the lockdown happened. We alerted the staff that this could be the only time for us to flee the country and return home safely. It became extremely difficult for us to contact higher authorities, being shown no sympathy whatsoever. It was extremely frustrating hearing about those final flights to Australia whilst we were confined to deal with the tedium of Indian bureaucracy.
Were you in contact with the Federal Government in Australia at all? What did they say?
We had made contact with the Australian High Commission several times only to be met with passive messages that urged us to remain calm and be patient: 'There was nothing that could be done.' I did not feel supported or provided with any solace. Only when Ben and I featured in some media towards the end of our quarantine (which totalled 19 days) did we get some attention. The High Commission made it possible for us to be correctly discharged and make our way to Delhi. 
When the government announced last week that they would be repatriating Australians from around the world, did that include Australians like yourself in India? Or were you still stuck?
The repatriation flight we boarded was not government facilitated. It was government endorsed but ultimately, it was organised by a generous community toiling night and day to create alternative options for citizens desperately seeking to return home. We were astonished that the government took minimal initiative to rescue people in India. Being stuck there as a foreigner is incredibly risky. There was an array of people involved in organising the chartered flight. A big thank you to Simon Quin, Brendon Hempel, and Dr. Virk.
How did you manage to get onto a chartered flight?
The 'Australians stuck in India' Facebook and Whats App groups were created to enable discussion and camaraderie. We were able to utilise spreadsheets and surveys in order to track popular locations and numbers for a repatriation flight. Delhi to Melbourne is the only route I think they're currently flying, but hopefully they open up more options for people in other locations, as it is extremely difficult to travel interstate in India.
The flight ended up costing just upward of $2000. We flew a Lion Air plane which was being used to transport medical equipment. I was very lucky to be able to afford this flight home.
How did you feel when you found out you were getting a chance to leave India?
Elated. We were keeping track of the current affairs, monitoring the political and social climate. People are extremely scared and disgruntled in India. There is a real injustice due to the large-scale class disparity. Because of the abrupt lockdown implementations, people quickly began to starve, struggling to walk kilometres back to their villages. Families and individuals were entirely abandoned in this crusade against the virus. So as soon the option to leave arose, I took it. Who knows how long the lockdown would have continued for.
How was the flight? What was the experience at customs and when you landed in Melbourne?
It was pretty gruelling. It took us 5 hours to check in, the flight was 15 hours in total due to a fuel stop in Indonesia, and then another 5 hours to finally get through customs and reach our quarantine hotel. The flight was full and passengers were not being vigilant in regards to health – touching their faces, sharing snacks, it was bewildering to watch. When we arrived, transport and government staff were taking every necessary precaution, which severely slowed down the process but was necessary. I experienced an instant sense of relief as soon as we got to Tullamarine. It was the first time I've felt safe in a while.
How are you coping with quarantine at the moment?
We're at the Mecure Welcome Hotel, looking at a grey wall. Everyone was complaining the first couple of days but the staff are doing their best to facilitate us. You're allowed care packages and Woolies orders. It's not ideal, but everybody has to play their part to aid society. I'm making the best of it.
It has been an intense month. I think the mind can tolerate a lot more than you give it credit for, people underestimate their ability to adapt and the innate resourcefulness of Australians. All of this is temporary and hopefully there are better days ahead.