Detective Superintendent Arthur Kopsias APM, registered number 18141, joined the NSW Police Force on 17 April 1978, commencing his career by marching in at the Redfern Police Academy as class 159.
Athanasios Kopsias was born in Sparti, Greece, migrating to Australia with his parents in 1960 where he lived in Surry Hills and Redfern during his childhood and schooling years.
He was attested as a Probationary Constable on 26 June 1978 and completed his secondary training working general duties at Maroubra Police Station. He transferred to criminal investigation duties where he performed training at No 21 Division – Criminal Investigation Branch and the Gaming Squad, as well as at Waverley, Randwick, Mascot and Rose Bay Police Stations. He successfully obtained his designation as a Detective in 1983.
From 1984 to 1996 he worked with the Internal Affairs Branch, State Intelligence/Investigation, Legal Services, Region Operations and Special Projects in many varied roles and in particular the investigation, arrest and prosecution of offenders for serious and major criminal offences.
In 1990, he was promoted to Detective Sergeant where he was working at the Legal Services Branch as the Commissioner's Advocate involving Promotion Appeals at the Government and Related Appeals Tribunal (GREAT).
In 1993, he was admitted as a Solicitor of the Supreme Court of NSW and consequently in 1995, attained his legal practising certificate at the College of Law where he used his legal skills within the organisation and whilst seconded to the Wood Royal Commission into the NSW Police and the Police Integrity Commission involving allegations of serious crime and corruption by police officers.
In 1995, he was promoted to Detective Inspector of the Special Projects Unit – State Investigative Group (Region Support). He was responsible for the implementation of a number of significant recommendations handed down from the Royal Commission into the NSW Police Service, namely the reform of criminal investigation practices, evidence and procedures which brought about many important and improved changes for the NSW Police.
In 1999, he was promoted to Chief Inspector where he took Command of the Telephone Interception Branch, under the Special Services Group. In 2006, he was promoted to Superintendent at the Telecommunications Interception Branch. At the time he also performed duties as the Commander Eastwood and Glebe/Leichhardt commands respectively.
As the head of profession in telecommunications interception, he represented the NSW Police on many national and technical committees involving State-based, Territory and National Law Enforcement and Security Agencies and the Telecommunications Carrier industry which were administered by the Cth Attorney General's Department and later the Department of Home Affairs. It was here behind the scene where countless polices were set, laws were reformed, and the technical and investigative capability of agencies were bolstered in order to enhance their electronic evidence gathering capacity to more effectively combat serious crime.
During his career he has been awarded several Commissioner's citations and Commander's commendations and recognitions for his investigative work, integrity, leadership and as head of profession.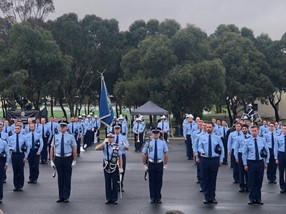 In 2019, he was appointed The Commander High Tech Crime Branch under the Forensic Evidence and Technical Services Command.
Detective Superintendent Kopsias APM was formally recognised with the following awards:
National Medal
NSW Police Medal
1st clasp to NSW Police Medal
2nd Clasp to NSW Police Medal
3rd Clasp to NSW Police Medal
Australian Police Medal
1st Clasp to National Medal
National Police Service Medal
1st Clasp to National Police Service Medal
4th Clasp to NSW Police Medal
2nd Clasp National Medal
5th clasp NSW Police Medal
6th clasp to the NSW Police Medal
Two Commissioners Citation and Commendation Awards
Two Commanders Commendation Awards
Commissioners Emergency Commendation
On 4 March 2022, 191 police trainees from class 351 marched into the NSW Police and were attested as probationary constables. On this same day, Detective Superintendent Arthur Kopsias APM marched out from the Goulburn Police Academy as a retired officer closing this chapter of his life.
He proudly and diligently served the NSW Police Force and the community of NSW for over 43 years. His integrity, professionalism and exceptionally hard work will remain a testament of inspiration for others to follow. He will be missed by his colleagues but his legacies will always be remembered.
His wife Tina, daughters and sons in laws De'Anna and Paul, Kristina and Hani, and relatives and friends were there to celebrate this momentous occasion. On behalf of His Eminence Archbishop Makarios, His Grace Bishop Bartholomew of Charioupolis, Vicar of the Greek Archdiocese Canberra, attended the Academy to bless and praise respects and congratulations for such an important milestone to a long serving and high ranking Greek police officer.
He will now commence the next chapter in his life.