Paul Alexandrides, a West Beach local of Cypriot heritage was recently announced as Labor's candidate to contest the upcoming state election.
Mr Alexandrides, a City of Charles Sturt councillor for twelve years and small business owner will contest the seat of Colton after he was preselected by the party.
"I am truly honoured to be pre-selected as the South Australian Labor candidate for Colton, a community I grew up in and love. I learnt about the importance and value of hard work from my parents, and the importance of family, integrity and community service," the father of two, wrote on social media.
"I believe that being a Member of Parliament is a personal commitment, not just a job. This is my passion."
Community commitment from father to son
An active member of the community, Mr Alexandrides said that he draws his passion for democracy and community service from his late father, Nick (also known as Neoklis), who migrated to Australia from Cyprus in the late 1940s at the age of 18 to build a better life for himself, his mother and sister.
"Dad met my mum, Maria, at the wharf in Melbourne. She was sitting on her suitcase alone, lost and crying. She was only 15 years-old and her parents had sent her to Australia. She got on a boat and landed in Melbourne. Dad approached her and found out she was also coming to Adelaide and offered to help her get to her destination safely."
Nick started working around Australia and finally got employed by Australian Railways as a railway guard. In 1963 he became the first person of migrant background to be appointed President of the SA branch of the Australian Railways Union.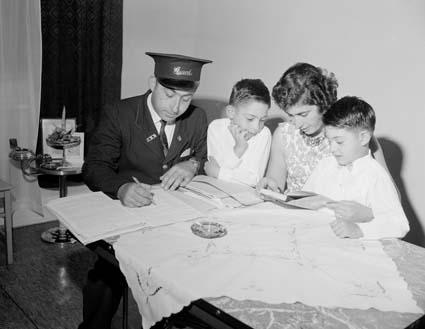 "He always made sure that he was able to help whenever he could, whether it be through a committee or through just personal activism," Mr Alexandrides said.
"And that mindset has been passed down, not only to myself, but to my three older brothers as well. So, we all are interested in politics, democracy and advocating for those who are less fortunate than ourselves."
'It feels good to help': Paul Alexandrides
Speaking about his journey in politics Paul Alexandrides said it started in late 2009 after an issue he had with the local council was not resolved to his satisfaction.
"I found out the local councillor wasn't running and there was a vacant spot for an incumbent to run in. I put my hand up and nominated to run for council, which I fortunately enough won," he said.
"In about 2012, I realized that working on behalf of a community was something that I really enjoyed doing and gaining outcomes for residents was something of a joy. I felt elated. I felt enthused every time I was able to help somebody and I could see the joy in their face when they got their outcome."
Now Mr Alexandrides hopes to help the residents in his area to have a voice in the state Parliament.
"It's an area I grew up in. It's area that I love. It's an area that I'm connected to. I believe that they're being underrepresented and I want to help these people."
A priority for Mr Alexandrides if elected will be to address the ambulance crisis.
"The biggest challenge for the elderly in Colton -the Greek, the Italian and the Maltese- is the ambulance system. They're concerned about it."
If it wins the March state election, Labor has promised to invest in health and in fixing the ramping crisis including a $120 million Adelaide headquarters for the South Australian ambulance service along with a new city-based station with 32 paramedics.
Mr Alexandrides said Opposition leader Peter Malinauskas brings hope for South Australia and a fresh perspective with a focus on multicultural communities.
"I feel there's been some disconnection between particularly the Greek community and the Labor Party in the last 10 years. But when our parents came over to Australia from Greece, and Cyprus, they worked in factories and were supported by the Labor Party against that White Australia policy."
"It would be nice to understand why they left Labor and get them back into the Party that actually appreciates what we have done and how we have contributed as a community."
*The seven further candidates of Greek heritage who run in the state Election are: Tom Koutsantonis (Labor), Olivia Savvas (Labor), Andrea Michaels (Labor), Tom Antonio (SA-Best), John Alexander Photakis (Greens SA) and for the Legislative Council: Stephen Pallaras with his political Party Real Change SA and Ian Markos with SA-BEST