We all know the typical Greek migration story. Men, women and sometimes even young families, would leave Greece by ship with just one suitcase in search of a better life in Australia.
The Honourable Justice Emilios John Kyrou AO, his parents and brother Theo were part of this migration story when in 1968, they left their home at Sfikia in northern Greece for Broadmeadows in Victoria, Australia.
"Back then, the Australian government needed unskilled workers to fill manufacturing positions in factories so they were recruiting and circulating around villages, encouraging people to migrate," Mr Kyrou tells The Greek Herald.
"My mum and dad chose to leave because they realised that if we stayed in Greece, our life would just continue as it was. There was no real opportunity for us to advance ourselves."
Still, those early years in Australia weren't easy for the Kyrou family. Their first home was in rudimentary accommodation at a migrant hostel. They then lived in other people's houses, before buying their own home from the Housing Commission in 1973.
Mr Kyrou says the process of helping his parents buy their home, and other everyday essentials, was the catalyst of his passion for the law.
"Being the oldest in the family and after I learnt English, I would translate for mum and dad. I would go with them everywhere – when they applied for a job or sought to buy something. I initially was their interpreter, but after a while I became their advocate," Mr Kyrou explains.
"During that process, I started to learn that in order to protect yourself and your family, you needed to know the law because not everyone does the right thing.
"So from about the age of 13 – 14, this had instilled in me two ambitions – one was to go to university and the other was to get into law and become a lawyer."
Reclaiming his Greek identity:
With this newfound motivation, Mr Kyrou was determined to excel in high school, but it wasn't without difficulties.
At the time, Broadmeadows was a predominantly low-social economic area, with a lot of blue-collar workers and not many migrants, so Mr Kyrou quickly became a victim of racism and bullying.
"The racism was really bad to the point where I was ashamed of being Greek because my Greek identity was a source of pain and hardship and cruelty from others," Mr Kyrou says, while explaining how he tried to conceal his Greekness at school.
"When I changed schools and had an opportunity to enrol myself, I told my principal that I wanted to be called 'John' rather than 'Emilios' because John was obviously an Anglo-sounding name."
Fortunately for Mr Kyrou, by Year 10 many of his bullies had left school and he was able to reclaim his Greek identity, asking everyone to call him by his real name – 'Emilios.'
"Things went better from that time," he says.
"I ended up getting good results. I completed high school and I got into university. I was the only one from my school to get into the law faculty at Melbourne University."
Once at university, Mr Kyrou says he didn't face racism, but he did encounter self-doubt as he came across other students studying Law and Commerce like him who were "from private schools, very cultured and articulated."
"Initially I felt a bit lost. I was on my own and when I heard other students speak up in class I thought, 'they are really good, maybe I'm not as good as them, maybe I shouldn't be here'," the judge explains.
"But then after a while I thought to myself, 'my whole life is about overcoming disadvantage and working hard to overcompensate. I'll just work harder than them and see how I go.' And I did. I worked very hard."
A role model for others:
This hard work has clearly paid off.
In 1982, Mr Kyrou graduated with First Class Honours from Melbourne University Law School and was recognised with the prestigious Supreme Court Prize. He was also awarded the Gold Cross of the Order of Honour by Greece's President in 2015 and is Patron of Greek welfare charity, Pronia. This year he was honoured in the Australia Day Honours List.
His first job was as a solicitor at Corrs Chambers Westgarth from 1984 and he became partner at the firm in 1988.
In 1990, Mr Kyrou was partner at King and Wood Mallesons until 2008, when he became the second solicitor in Australia to be appointed Judge at the Supreme Court of Victoria. Since 2014, he has been a Judge at the Court of Appeal of Victoria.
And in news just confirmed today, Mr Kyrou has now been appointed as the first Greek-born Judge of the Federal Court of Australia.
What does he say is the key to all this success?
"My Greek background has had enormous influences on me as a person and what I've done in life. The encouragement and exultation my mum and dad gave myself and my brother to study and work hard was my mantra and has defined my life," Mr Kyrou stresses.
"The experience I've described of racism and bullying also had a strong influence. I developed a very strong view that no one should have to go through any form of bullying or discrimination.
"No one should be disadvantaged because of their minority status, whether that be their migrant status, sexuality, anything related to them as a person should not hold them back in any way.
"So, I developed a very strong view about inclusiveness and celebrating and embracing people's diversity."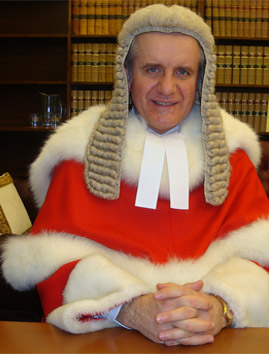 This progressive view has defined Mr Kyrou throughout his life and is something he hopes to continue advocating for as he encourages others to take up the law and enter the legal profession.
"There are still minority groups and disadvantaged groups who don't have a lot of role models, that might feel like I did when I went to university," he concludes.
"If I can overcome the obstacles that I faced, they can overcome their obstacles provided they persevere and work hard. I say that if I can do it, then they should feel confident that they can do it too."