Greece's Forbes magazine has released its '30 under 30′ list for this year and in a fantastic twist no one saw coming, Greek Australian George Moulos, 21, has been recognised for his entrepreneurship.
Earlier this year, The Greek Herald spoke exclusively with George about his e-commerce business and how he was adjusting his business during the coronavirus pandemic.
It looks like his hard work has paid off, especially as his current recognition in Greece's Forbes means he is now also in the running for Forbes' Europe list.
READ MORE: TGH Exclusive: George Moulos emerges from lockdown to film the quiet streets of Greece.
"I'm definitely honoured. It's my first entrepreneurial award and it is very validating to know that the work I've been doing over the past seven years is getting recognised nation-wide," George tells The Greek Herald exclusively.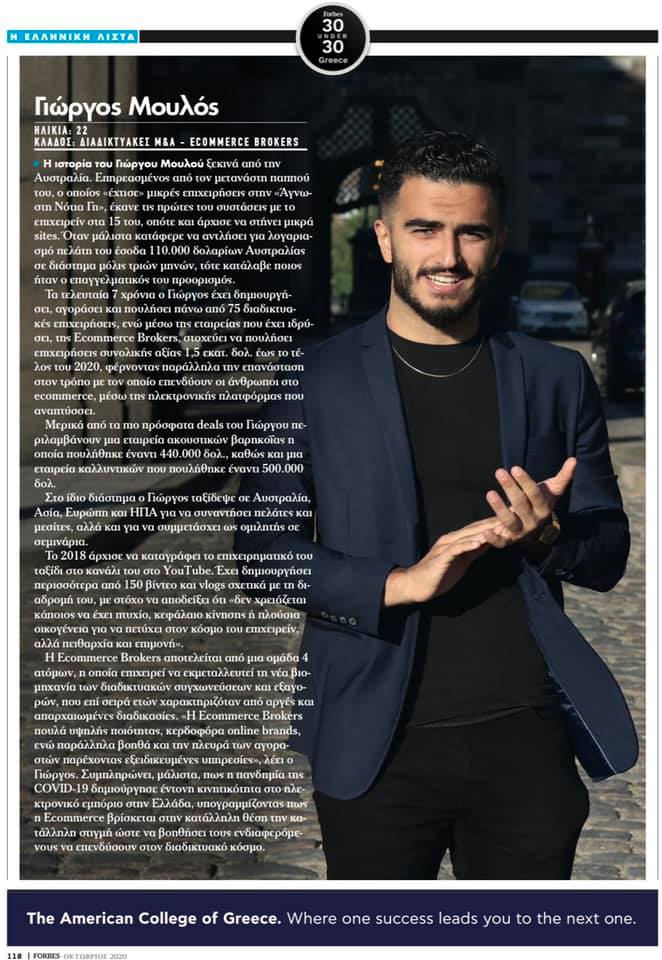 "Most importantly, I think it's really great for young Greek entrepreneurs building online businesses, as it shows the old generation of Greeks that the new era of Greek entrepreneurship isn't in the form of a kafenio or taverna, but online!
"Young Greeks don't need to go to university, have family connections or startup money to succeed as entrepreneurs."
George has been obsessed with entrepreneurship since he was a kid. He was inspired by stories of his grandfather who went to Australia as a refugee from Greece and started small businesses.
He started building his own online businesses when he was 15 years old. When he generated over $110,000 for his first client within 3 months, he knew he was onto something and quit his job at McDonalds.
Since then, he's built, bought, brokered and sold over 75 online businesses and with his business Ecommerce Brokers, he's now on target to sell a total of $1.5 million USD worth of online businesses in 2020 and revolutionise the way people invest in the ecommerce world with a fund and an investment platform he's developing.
During this seven year process, George has also travelled across Australia, Asia, Europe and the USA to meet clients, broker deals and speak at seminars.
In 2018, he started documenting his entrepreneurial journey on his YouTube channel.
He's created over 150 videos and vlogs about his journey to show that "you don't need a degree, start-up money or a rich and connected family to succeed in entrepreneurship, just the discipline and determination to persevere."
Clearly George is an inspirational young Greek entrepreneur with the world as his oyster.