By Argyro Vourdoumpa, Andriana Simos and Eleni Patsalides.
They are our grandmothers, mothers, sisters and best friends. They are the women next door who step up to keep our communities safe during challenging times, question the status quo and push to shatter the gender mould in their industries.
To celebrate International Women's Day this year, we asked 14 Australian women of Greek and Cypriot backgrounds to share their messages and tell us what motivates them to confront bias and work towards a world free of stereotypes and discrimination.
Dr Yiotoula Sotiropoulos – General Practitioner
The theme of 2022 International Women's Day is #Break the Bias, "A world that is diverse, equitable and inclusive, where difference is valued and celebrated."
In the mid 1950's, my parents migrated from a small village in Peloponnesus with little formal education, not unlike most migrants. They did however possess optimism and hope to build a better future. They spoke no English and therefore, nor did I until I started school. As a child, my dream was to become a doctor and I'm grateful my parents supported me. They never saw my gender as a barrier, which upon reflection was very progressive for the times. Their attitude was always "hard work will always pay off." I never considered my gender, nor my migrant, non-English speaking and working-class background as a barrier, but rather part of my identity and success. I'm acutely aware of my parents' (and all migrants) sacrifices and I think it's important we honour those by doing our very best.
Medicine was my dream and I'm grateful to have been in my own practice for 34 years with the support of my family and the community. Hopefully, I can inspire younger people as a role model, and to show them not to focus on stereotypes or prejudices, but rather on their strengths and what they have to give.
Caroline Diamantis – Pharmacist
Working as a pharmacist on the frontline, instantly pivoting and responding to the Federal Government's call to provide critical health care and advice (especially vaccinating), has made me extremely proud. When I bought my first business over 30 years ago, less than 10 percent of pharmacies were owned by women but today it is around 30 percent, and it is far more acceptable.
With hard work and perseverance, I was also invited to join various Pharmacy Boards over the years including the Board of the Pharmaceutical Society of Australia as a National Director and NSW Vice President. These roles have traditionally been dominated by men and it is refreshing and exciting to see females being recognised for our ability and contribution to business.
Helena Cannon – Paramedic
My name is Helena and I'm a Mobile Intensive Care Ambulance (MICA) paramedic with Ambulance Victoria (AV). I have been with AV for 21 years and have seen many positive changes in this time. Frontline healthcare during the COVID-19 global pandemic response has been challenging for many of our staff, and our colleagues across the healthcare system. The impacts of the pandemic have been broad and far reaching within our service and our paramedics, alongside our partner agency staff, have worked hard to manage increasing workload demand, prioritise medical need and deliver the best of care to the Victorian community.
In the past we've celebrated how far we've come towards gender equality in AV, and there are now just over 50% of female staff in frontline operational roles. International Women's Day, affords us all a moment of self-reflection, and I am so proud to celebrate my place amongst the many women who contribute positively to AV every day. My hope for the future of women in paramedicine is that it continues to be a supportive, safe and inclusive workplace that promotes diversity and inclusion for all staff. True equality exists when we are no longer having the conversation.
Helen Zahos – Nurse
Men dominate senior executive roles in nursing despite it being a female dominated profession. This is depicted in the WHO equity and gender analysis of global healthcare: Delivered by women, Led by men. I #BreakTheBias in my role as a nurse by encouraging my female colleagues to apply for senior roles and help them recognise that they are good enough and can do it! As women, we can all #BreakTheBias by boosting each other up rather than dragging each other down.
Angela Vergopoulos – Detective Senior Constable, NSW Police
International Women's Day highlights the need for everyone to call out gender bias, discrimination and stereotyping against women. I grew up in a Greek immigrant family and was conditioned to believe that a woman's role was to be a wife and mother. At the age of 42, I challenged that misconception and joined the Police Force. As a NSW Police Officer, I am proud to be part of an organisation committed to equality and free of discrimination. I am thankful for the evolution of women in policing and I aspire to help 'Break The Bias' through my actions, working role and community work.
International Women's Day for me is also an opportunity to acknowledge our Greek mothers and grandmothers who paved the way for a better life. Some remained traditional, others challenged the ways of the past and adopted a more modern outlook. Either way, their dedication and devotion to family never wavered.
Like so many of their generation, they travelled to this foreign land without the protection and security of their parents and siblings, leaving behind the life they knew. They lived in a time where bias, stereotype and discrimination against women was acceptable. Though they didn't know it at the time, their courage, resilience and tenacity to create a better life for their family instilled a belief that we can break the bias against women. They were not revolutionaries but wished for their daughters, granddaughters and generations to come, to live in a world where women would be embraced as equals.
To these incredible women, we say Thank You!
Niki Habibis – Victoria Country Fire Authority
Niki Habibis was born in Cyprus and migrated to Australia with her family when she was two years old.
"We came as refugees from the Turkish invasion of Cyprus," she said.
Niki Habibis joined Country Fire Authority (CFA) more than 26 years ago to protect her local community, as an active volunteer firefighter and woman with intersectional identity.
"There were not too many other female firefighters around at the time," she said. "When I first became Captain, nearly 18 years ago, there was one other female Captain in my District.
"There are now seven female Captains in my District, and many more women coming up through the leadership ranks, who are also active volunteer firefighters."
Niki says the gender stereotype that only men can be firefighters, or leaders, in emergency services is being constantly challenged, with an increasingly diverse representation of women across all areas of CFA.
"It's an exciting time to be a part of CFA as we collectively #BreakTheBias."
Cathy Wilhelm (Constantinou) – Victoria Country Fire Authority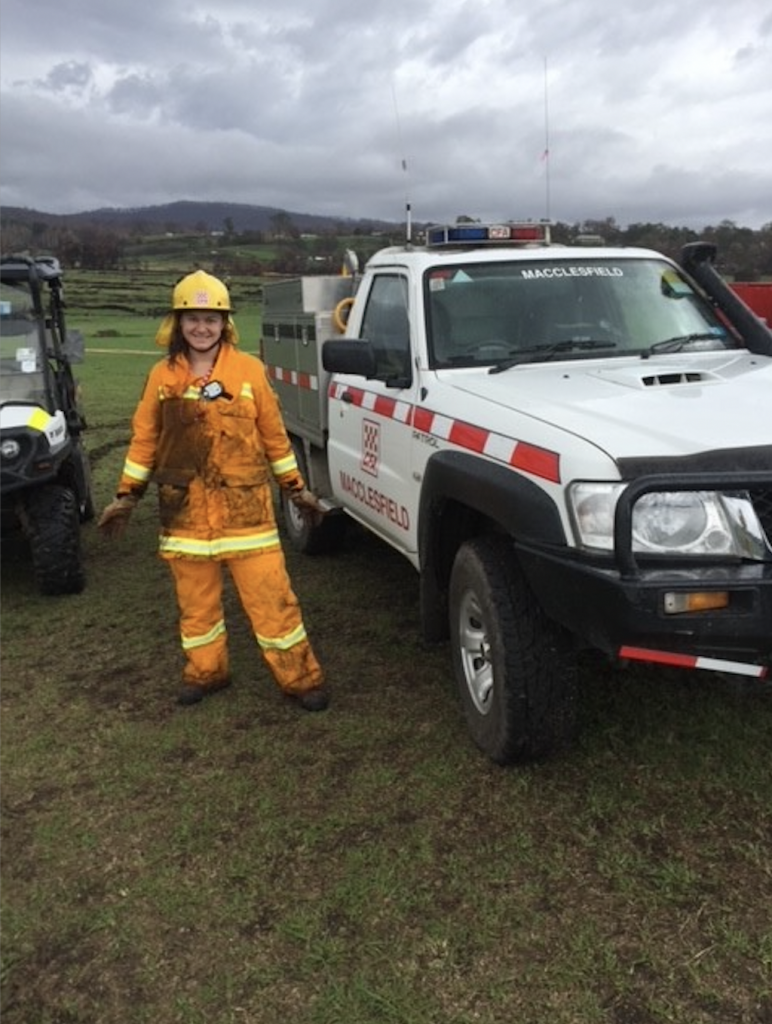 Australian-born Cathy Wilhelm (nee Constantinou), of Greek and Cypriot heritage, has been a volunteer firefighter with Country Fire Authority (CFA) since 2019.
Cathy said she chose to volunteer with CFA as family members were also CFA volunteers, and she has always enjoyed helping others.
"I always looked up to my family for what they did for their community and hoped that one day I could do the same," she said.
"Living in a small Country town, I took the plunge and thought it was fitting to join the local fire brigade."
Cathy says it is extremely important to have women representing emergency services. "Whether they are on the front line or helping behind the scenes, we all need to work together and gel as one.
"That's what makes volunteers so special, we are equal and have one thing in common – we just want to help our community."
Cathy says she is fortunate to be part of a wonderful group of volunteers at the Macclesfield Fire Brigade.
"We have many female volunteer firefighters in our brigade, including our brilliant captain; this is how we #BreakTheBias."
Katherine Manoulios – Secondary Teacher
As a secondary educator, it is imperative that I celebrate the achievements of all students and create an inclusive environment. However, I consistently strive to support young girls in achieving their goals, celebrating their victories and ensuring equality in the classroom. As a female teacher, I aspire to be a role model for these students, guiding them towards a bright and successful future with endless possibilities. Therefore, for International Women's Day 2022, I encourage you to support the women in your life, particularly your young daughters, family members, friends – they are the future.
Chrissanthy Tsigolis – Childcare Worker
I am a female operator of childcare centres in Sydney's east and believe that gender is not the only barrier to success in our or any industry. Age is also a barrier, with many women not taken seriously because of their youth. At my centre and past businesses, I try to break this stigma by focusing on strength and talent not age. I have recently encouraged two of my young staff members, Carla and Rena, to use their passion, drive and leadership skills to move up into management. They remind me of myself when I was younger and dreamed of being my own boss, which became a reality for me at the age of 28. I hope I can continue to mentor these young women and I encourage other young girls to take on leadership roles as well.
*In my mothers memory working from a very young age with love passion for everything she did. 27.10.55 – 5.3.22
Paraskevi Athanasiadi – Carer, Fronditha Care
Paraskevi Athanasiadi moved from Dasos Haidariou in Athens to Australia seven years ago. She migrated to the country with her husband and their three children.
"The economic crisis had made things much more difficult and we wanted something better for our kids," she said.
In Australia, Paraskevi decided to change career and moved into the aged care sector. She soon started working for Fronditha Care in Melbourne as a Personal Care Worker for the elderly living in their own homes.
"I started helping them with their domestic chores. I then decided to sit another course and can now assist them with their personal needs as well. The more you learn, the more you want to help them," she said.
"I get life lessons from the elderly because they encountered a lot of struggles and that didn't stop them. Their stories empower me to overcome difficulties and live a happy life with my family. I feel like I am helping my parents.
"The aged care sector offers much more than monetary benefits. It makes you feel fulfilled. As a woman, I feel that we can achieve a lot. We have enormous mental and physical strength, and we only need to believe in ourselves."
Elfa Moraitakis – Chief Executive Officer, SydWest Multicultural Services
This year's theme 'BreakTheBias' is another reminder to us all that addressing inequality and stereotypes is a collective responsibility, and we still have a long way to go. Knowledge has always been the driver for major changes in society. We are responsible to educate and role model to our sons and daughters what equality and inclusiveness looks like. Simply talking about it will not make a difference.
In the community sector I would like to see more women assisting young women with mentoring and connecting them to networks that will benefit their personal growth and aspirations.
Joanna Kirlagitsi – Psychologist
Part of my role as a psychologist involves empowering women everyday to be the best version of themselves. The pressure for women and teenage girls to meet unrealistic societal beauty standards today is worse than it's ever been and that is due to social media. Many women and young girls are constantly comparing themselves to an ideal physical standard that is unrealistic and creates difficulties with self-confidence and self-esteem. Low self-esteem tends to lead to mental health issues such as anxiety and depression, which all work together to create a mental barrier for women to be the best they can be.
Fortunately, I am privileged to contribute toward breaking that barrier by helping women and young female teens to build their own healthy standards, and shedding light on other factors that make up their sense of self, such as their strengths, abilities and values.
Another very significant role I hold as a psychologist is helping women identify signs of unhealthy relationships and empowering them to step away from either physical, emotional, or psychological abusive relationships. It is an honour to be able to support women through my work and help them to pursue personal goals, recognise their strengths and achievements, capitalise on their unique qualities, and overall develop a healthy self-esteem so they can live a rich and meaningful life.
Litsa Diakanastasi – Senior Social Worker
My name is Litsa Diak (Diakanastasis) and I am a Senior Social Worker with NSW Health with 21 years experience in the public and non-government sector. My profession is mostly made up of strong, determined, highly motivated hardworking women who go beyond the call of duty, and do so with integrity, honesty, openness and reliability.
In addressing the 2022 International Women's Day theme #BreaktheBias, social workers break the bias by practicing within a social justice and human rights framework, facilitating people's empowerment and working to eliminate violations of human rights. Identifying social systems and structures that preserve inequalities and injustices and advocate for change. Challenging policies and operations that are oppressive and fail to meet international standards of human rights, social inclusion and social development.
As a proud Greek Australian female social worker, breaking the bias and removing the stigma as well as the inter-generational gap in the areas of age care, disabilities, mental health, domestic violence and homelessness has been very challenging but very rewarding. Knowing that you have played a pivotal role in changing people's lives is one of the greatest joy's and acknowledgements one can receive and makes it all worthwhile.
Eleftheria and Anatoli Amanatidis – Business Owners
We own Eleni's Bar & Kitchen and during the COVID-19 lockdowns in Victoria, we opened up our kitchen to prepare and provide over 2000 free meals to frontline workers across the Footscray, Sunshine and Royal Melbourne Hospitals, as well as those in need in the local community.
Giving back to the community, who have given so much to us already in the time that we've been open for dine-in and takeaway, has meant so much to us and we felt it was important to give back to them at such a difficult time. We're all in it together and breaking down the barriers of inequality, which is so pronounced in such challenging times, is how we #BreakTheBias.