By Doris Falidis Nickolas
"The last thing I wanted was to stay back and work on the land," recalls Greek-Australian Paul Georgiadis, founder and owner of South Australian boutique winery Paulmara Estates.
Born in Waikerie June 1964, Paul the youngest of five children grew up amid loving and hard-working Greek immigrant parents, Charalambos (also known as Harry) and Athina, a family whose values and work ethics are evident to this day.
Through Paul's own continuous determination to establish the success he has achieved today, his dear late father's knowledgeable words, "Never to be afraid of hard work" have stuck close by and in return have played a mammoth role in Paul's life.
As a father of two himself, Paul has passed down his late father's wise words and valuable work ethic to his children, Mikaela and Harrison, who today can be seen assisting their parents in the vineyards, whilst juggling their studies.
"Growing up I had no intentions of staying in the Riverland," admits Paul Georgiadis.
"The last thing on my mind was to be stuck on a farm and working in vineyards," Paul reflects as he remembers wanting to focus on life in the city.
"My father sent us five kids to Adelaide to receive a worthwhile education, while he and mum stayed back in the Riverland to work," he says.
However, the intentions of city life were not to be for Paul, as circumstances steered him back into the direction of country life.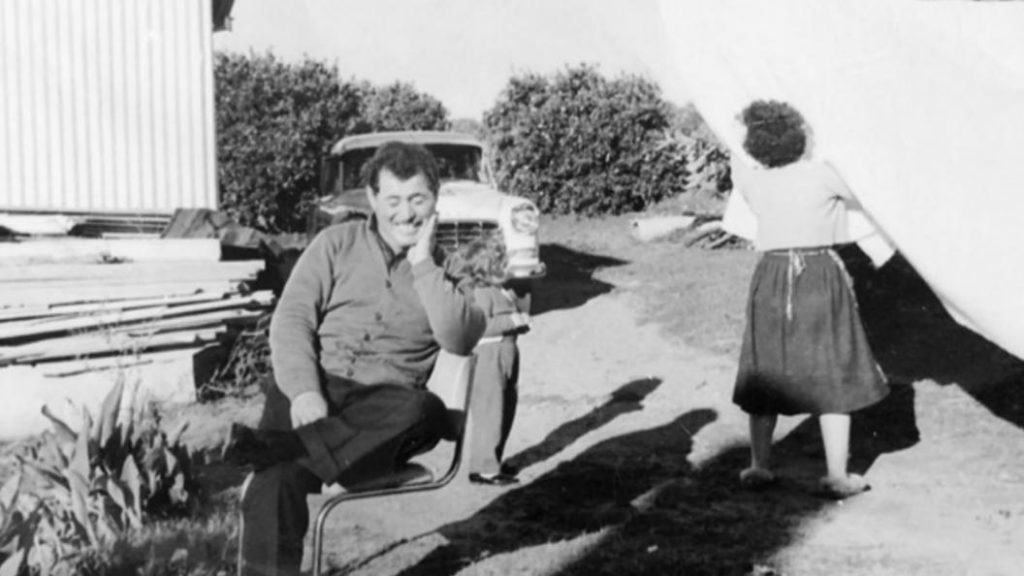 The family's migration story
Thanks to the willpower of one driven young man who back in 1954 made an unhesitating decision to leave behind his childhood home and family in Goumenissa, a small traditional town in the Kilkis regional unit of Central Macedonia Greece and set out for a country unknown.
Just as many other eager and courageous Ellinopoula (young Greeks) did back then, 24-year-old Charalambos Georgiadis perceived Australia as the land of hope and promise to a much favourable future.
After the long voyage across the seas and upon arriving in Australia it wasn't long before Charalambos found employment, working in the stone fruit industry in Shepparton, a city in northern Victoria.
By 1956, after spending a short time working in the salt fields in Ardrossan, a small sea-side town located on the east coast of the Yorke Peninsula, South Australia, a wonderful opportunity arose.
Charalambos met Mr. Martin, a man from the Riverland, who owned vineyards, citrus, and stone fruit. Mr Martin offered the young, enthusiastic migrant a chance to work with him and Charalambos happily took up his offer, with the hopes and dreams of one day operating his own vineyards.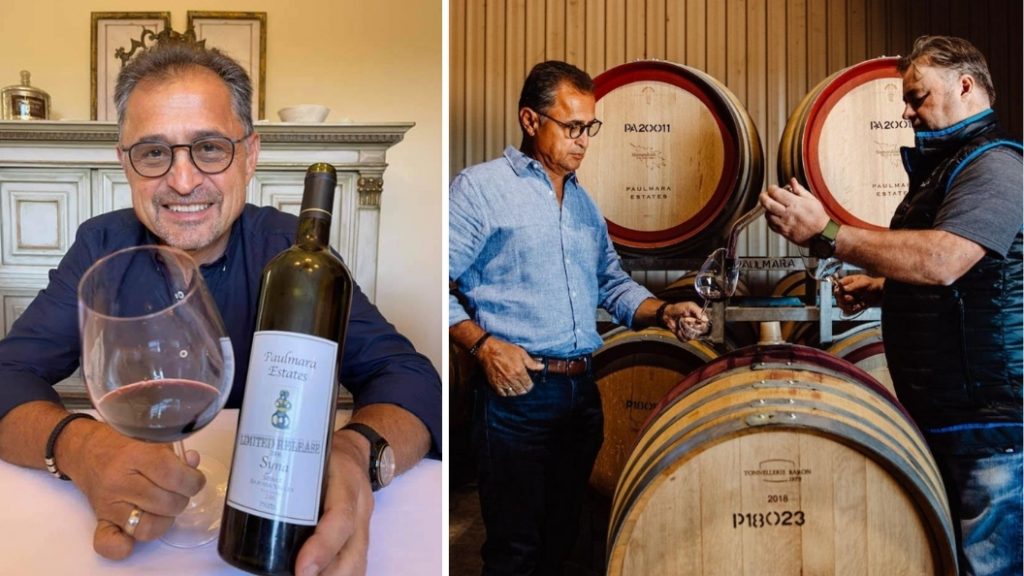 With the tranquil Murray River flowing through the region of the Riverland, the Mediterranean climate with warm dry summers and mild winters, Charalambos' adoration for the land was evident, maybe even a slight reminder to what he had left behind.

In 1958 Charalambos met Athina, a lovely young woman who had recently immigrated from the small village Skotina, in the Pieria regional unit, Central Macedonia. Their love blossomed and a few months later the young couple were married.
At this time, the region of the Riverland saw a thriving fruit industry and for the newlyweds waking before the sun rose and calling it a day long after the sun had set became a part of their daily routine, working tirelessly seven days a week.
An abundance of apricots, oranges, nectarines, and peaches grown on the farm brought in a comfortable income for the family and in 1973 Charalambos bought his own vineyard in the township of Barmera, proudly giving it the name of Georgiadis Lakeside Vineyards.
As the years went by, the hard yards did not stop for Charalambos and Athina, actively working the land whilst raising and providing for their five children.
In their later years, as the children moved on to Adelaide to live and study, the orchards and vineyards in Riverland had become a pleasing lifestyle for Charalambos and Athina.
Paul went on to study marketing at the University of South Australia, consequently obtaining the position of Penfolds' premium regions Grower Relations Manager, an impressive career of 18 years. During this time Paul found himself being pulled towards the vineyards and working with his father became a frequent practice.
In 1997 Paul met American born Mara Thomas, who at the time was visiting and working at a Barossa winery. Born in Sonoma County California, Mara grew up in an agricultural family and graduated from California Polytechnic State University with a degree in Agribusiness.
Subsequently, with like-minded background's the two hit it off immediately and in September 1998 Paul and Mara travelled to America and were married in Mara's hometown.
They have never looked back …
How Paulmara Estates was born
Located in the illustrious wine-producing region of Barossa Valley, was established by Paul and Mara in 1999, with the first vines planted in 1995 at Georgiadis Estates vineyard. It was the land Charalambos and Athina worked and nurtured, where family came together. It was the foundation of where dreams were born, and visions were created by the young migrant couple.
Their first estate grown shiraz wine was made in 1999 and bottled under the limited release 'Syna', the Greek word for together – when two hearts and mind combine and become one – an illustration of Mara and Paul's exceptional teamwork.
"Family is the centre of everything we do and the stories behind each of our wines are inspired by our life and those we love" emphasizes Paul.
Paul's motto in life is "Live for your Name and Family"
Through Paul and Mara's passion, love, and continuous hard work, this young family have proudly accomplished what was once hopes and dreams to a young Greek boy from Goumenissa, Greece and so, the legacy of Charalambos and Georgiadis name becomes etched in the heart of Nuriootpa, Barossa Valley.
*Doris Falidis Nickolas in the author of the book 'Life has two doors'