By Mary Sinanidis
The name Efrossini comes from the Greek verb 'efraino,' meaning to bring joy.
True to her name, Efrossini (Effie) Chaniotis opens the door to her Elwood home with curled up lips and welcoming blue eyes, like we're long-lost friends though we've just met. She offers me a chai and the smell of her home is one of warmth, cinnamon, hygge and art. She opens not just her home, but her heart.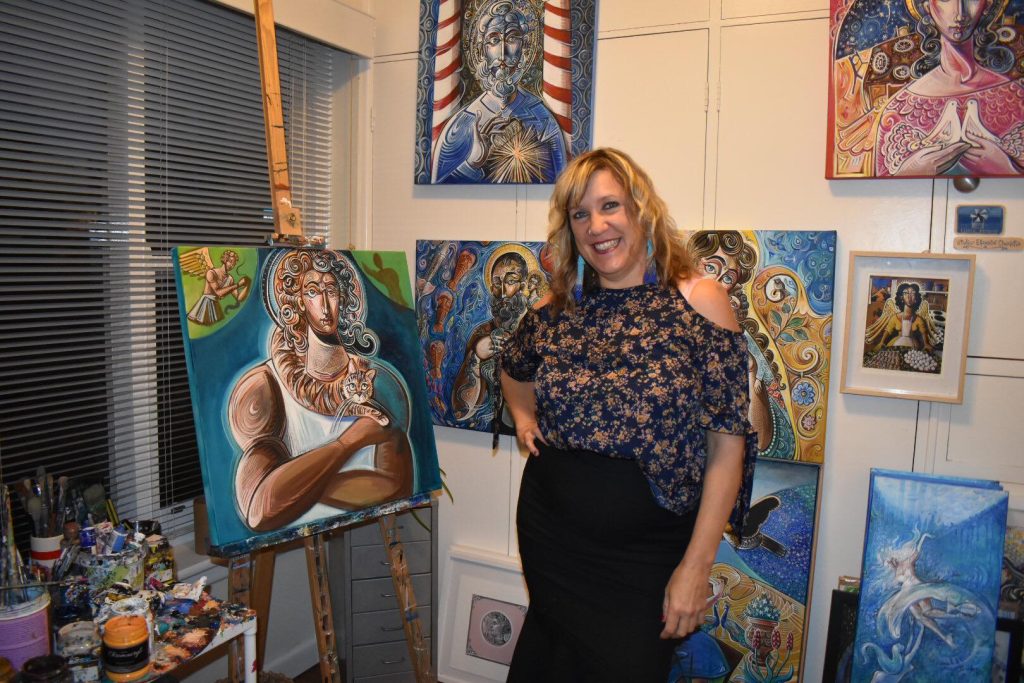 "Let's talk about the art exhibition," she suggests vulnerably, wondering if anybody will come to the launch of "Modern Icons: Angel Cooks and Brunswick Barbers" at Midnight in Paris in Prahran. The exhibition runs until November 19.
As we speak, Effie is surrounded by explosions of artworks. Her palette is crazy with colour.
"Look at my paint palette. It bears zero resemblance to what a Byzantine iconographer would be working with," she says, adding she had studied iconography. "But I'm more of an expressionist in my approach, very fluid. It is more of a dynamic process."
I notice the details.
"It's like Theophilos," I say, referring to one of the leading figures of Greek folk art born 100 years before Effie.
She expresses her love for the artist with his spontaneous style and warm natural colours. She points to a poster, I oraia Adriana, featuring the folklorist's work which she bought when still an art student in Greece.
"I still feel his story needs to be told more boldly," she says.
Though not self-taught like Theophilos, her works carry a similar homage to colour, detail and spontaneity. And Greekness. All that and more. Then there are other strands of work, devoid of colour but still as intricate, which appear to have been painted by someone else.
"I'm not limited by an identity of what I do," she explains. "I follow what the art requires and what my inclination is. I am not interested in repeating myself per se though there is repetition in my work. And that is part of the creative process. I basically do what I want."
She trusts the process.
Evolution of an archetype
Sitting under the "Angel Cook," pictured in a kitchen holding kourabiedes, she sips her chai and transports to her grandmother's Corfiot kitchen.
"Angel Cook entered my life when I started painting my modern icons in 2001, which is the year I had come back from living in Greece and they were done as a way of nursing my nostalgia for what I had left behind," Effie explains.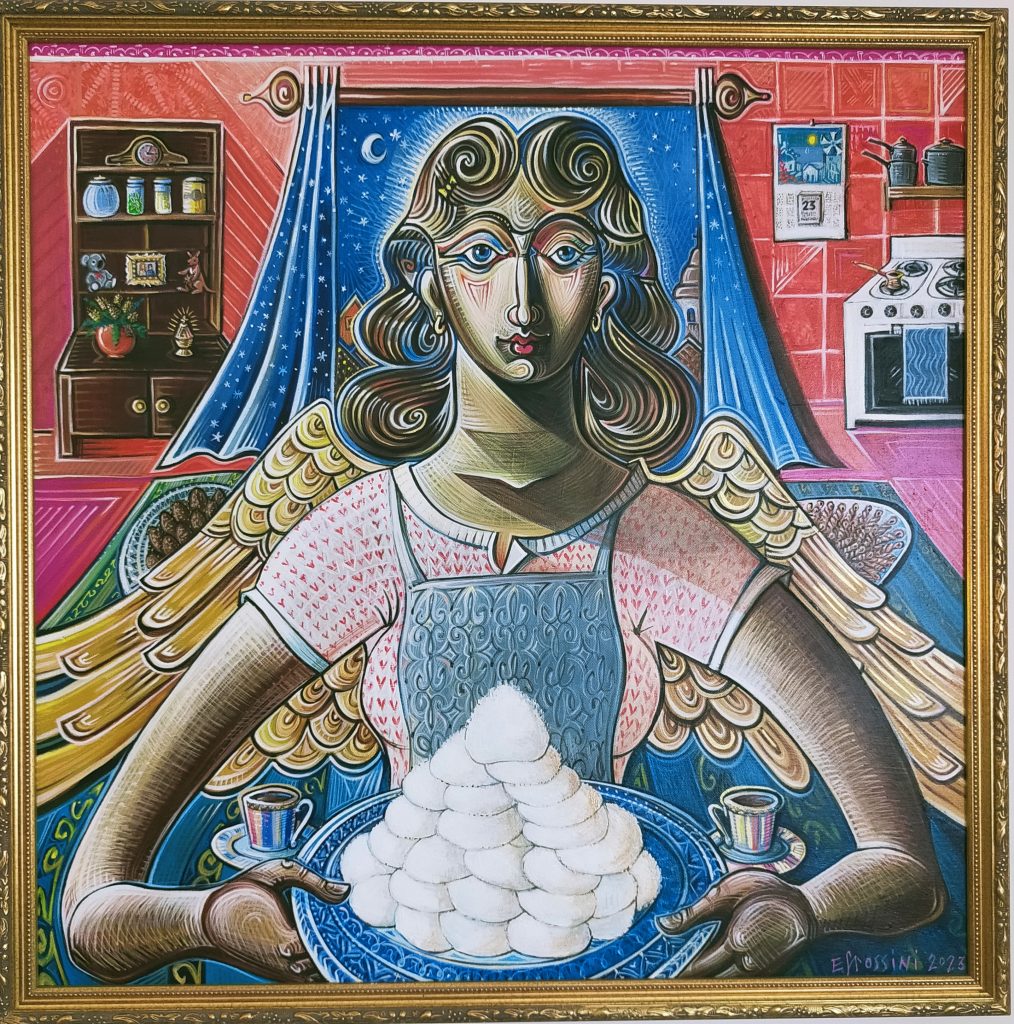 "The angel cook is almost like an archetype," she adds, pointing to how the Angel Cook passes through the prism of Byzantine art or even like the divine feminine entity in Hindi religions. When she first started, the angel cook was her grandmother, though these days it has taken a life of its own.
"In the first ones, I knew intuitively that I needed to linger with the images as I was dealing with sadness and pure nostalgia so I didn't want time to go fast," she says.
"I was really missing Greece and my family and friends, but I made the decision to come back to Australia, and as a painter I have the capacity to create and intuitively I knew that I wanted to emulate the images of home, images of loved ones, images of everyday life in Athens."
Angel Cook has evolved since then and Effie no longer lingers. Embedded deep within the artworks is Effie's own family history, with elements familiar to most Greek Australians.
"My modern icons are quite secular but have spiritual undertones," Effie says.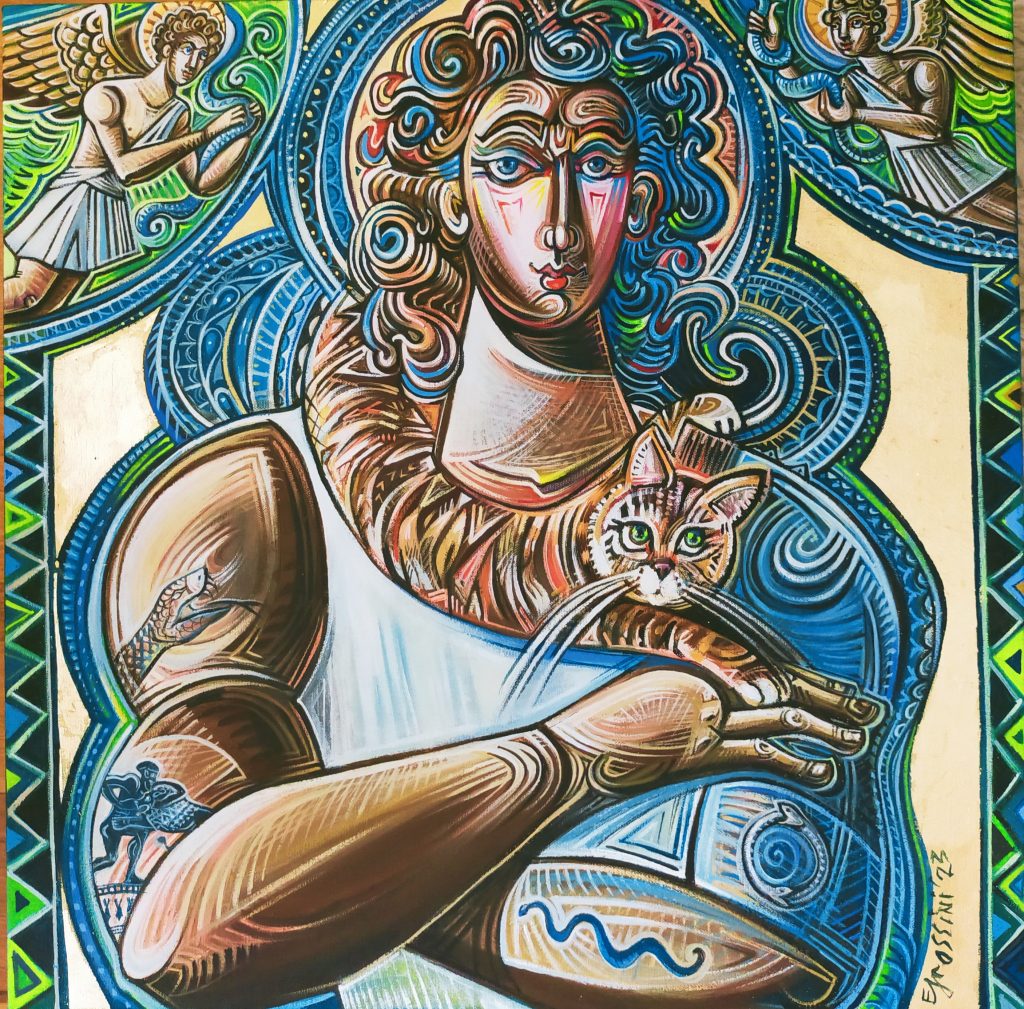 "The Angel Cook is a character I can explore in different paintings. In this one she is the Angel Cook and dream keeper, she brings loved ones who may live far away from you so you may not have your day-to-day experience of growing up with your family. We're split but there are points of connection; either by travelling or through telephone or letters back in the day.
"That day-to-day biography gets broken off, but she goes to people's dreams and sets the table for a celebration, and that's why there are kourabiedes, koulourakia and melomakarona. A koala souvenir like the ones relatives to Australia take back home is another detail. Though separated by time and space, Angel Cook brings people together, even those that are deceased.
"I'm using references from my grandmother's kitchen where I spent time as a young woman, the cabinet you see is real, and a vase, but as you look you see elements from Australia and then you realise it's a dreamscape because stars are coming out of the curtains."
There's much to talk about. As a viewer, I add my own interpretation. "There's sensuality to it," I say.
"Is there?" she seems surprised. By sensuality, I refer to my senses as the artworks are so evocative that you can almost smell the aromas and feel the powdery kourabiedes, though textures are tactile.
"I create images I want you to be drawn to," she says. "My goal is to create beauty and things with grace."
That may be the goal, but she let's the works also have a say. She begins and there's an evolution as the artwork evolves.
Family histories
Her own life has had its twists and turns, much like her artworks.
"I remember the experience of feeling quite ignored at school in Adelaide, where it was quite Anglocentric," she says, adding that she doesn't remember details but does remember not being very happy.
"My brother remembers me coming home in tears often and there was bullying, and even the teachers weren't very nice."
A fond childhood memory was her art teacher taking her mother to the side and saying, "Your daughter has a gift."
"Little seeds like that gave me a sense of value in an environment where the feeling of being valued or valuable or fitting in wasn't landing in me," she says, adding how she would obsessively draw. "I never had a doubt for as long as I can remember that I was good at art and that it was my thing."
Announcing that this would be the career she would be pursuing to her parents wasn't easy, but it was easier than it would have been had they not themselves been adventurers. Her mother, a French teacher from Corfu, had travelled to Paris. Later, she followed her husband to Australia, and her father, a lawyer from Mykonos, studied in Piraeus and got a job as a purser on the Patris but stayed in Melbourne.
"A chronic smoker, he was unwell and stayed behind to catch the next ship," she says, remembering her father who then got a job as a potato farmer, truck driver, taxi driver, travel agent and became the first migrant to get a real estate license in Adelaide.
"In Adelaide, he taught Greeks how to drive, sold them tickets to go back to Greece and eventually sold them their homes," she says.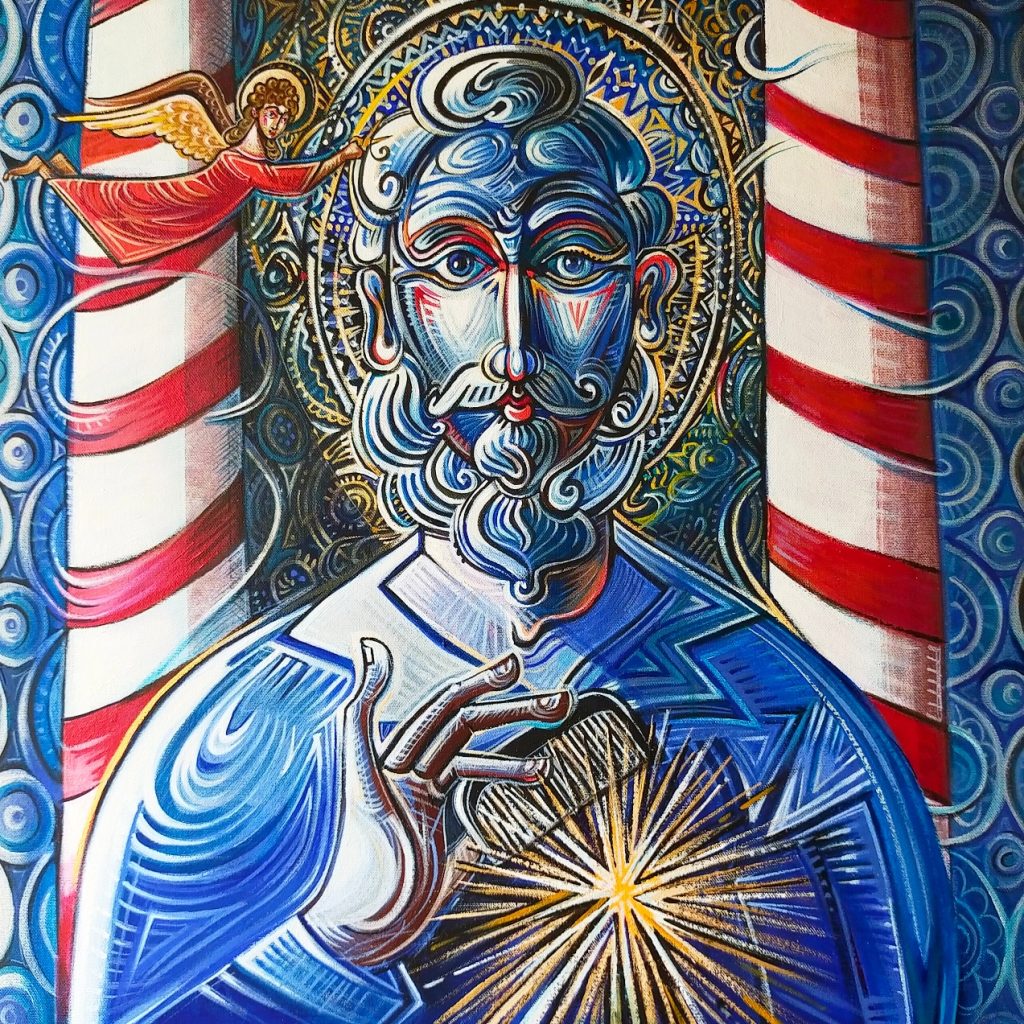 "My parents had followed their passion and when making my case, I convinced them that I should follow mine and study at the South Australian School of Art."
Effie says they understood. After all, her parents' passion took them round the world.
Effie's passion takes her to other worlds and other times inhabited by family histories, memories, angel cooks and Brunswick barbers.
MIDNIGHT IN PARIS is at 71 High St, Prahran, Melbourne until November 19.