By Kathy Karageorgiou
Before his move to Athens in 2000, David explains that many years ago, he had visited Greece as part of a European tour and was impressed, by what initially impresses most of us about Greece: namely, the islands and their beaches, Greece's climate leading to a predominantly outdoor lifestyle, its beautiful and diverse natural environment, as well as its friendly people.
"That was all very nice" he says, "but I felt the most interested in and fascinated by Athens."
Then, years later, as fate would have it, a rare occurrence surfaced. David was offered a job transfer to Athens.
"Artists have to eat and pay the rent too," he laughs, as he relates the multinational, advertising agency for which he worked as a Graphic Designer in Melbourne, Australia, offering him a position in Athens.
It wasn't long before David and his then young family, settled in Athens, in 2000. The Athenian suburb David preferred and which he calls home, is, as he describes "real, more genuine and working class, compared to wealthier suburbs where many expats live."
Unlike many other expat artists and not only, who are inspired by Greece, David describes much of his work as "dark", adding that he sometimes wishes he could find satisfying artistic expression through the painting of more popular images "like Cycladic, whitewashed houses with bright blue doors and ceramic pots with geraniums."
Apart from his art having a tendency towards being 'dark', David says his paintings encompass a range of styles and themes, from impressionistic landscapes and beyond.
He asserts that his "Greek-period" work, "basically post my first visit to Greece in 1994", has been in a large part, inspired by Athens.
"I know many people who think Athens is ugly – and they're not referring to the more touristy areas like Plaka, etc, near the Centre, nor the more upmarket seaside places like Voula.
"For example, my suburb has a traditional neighbourhood and community feel. I like that. Unlike many Athenian suburbs which have mainly modern cafeterias and bars, where I live we have a few of these, but we still have quite a few of those … Greek coffee houses which mainly older men go to, er, kafeneion," David exclaims.
"And the streets here," he continues, "have mainly varied, old style, simple houses, many of which were actually built back in the early 1950's, illegally during the night, due to poverty.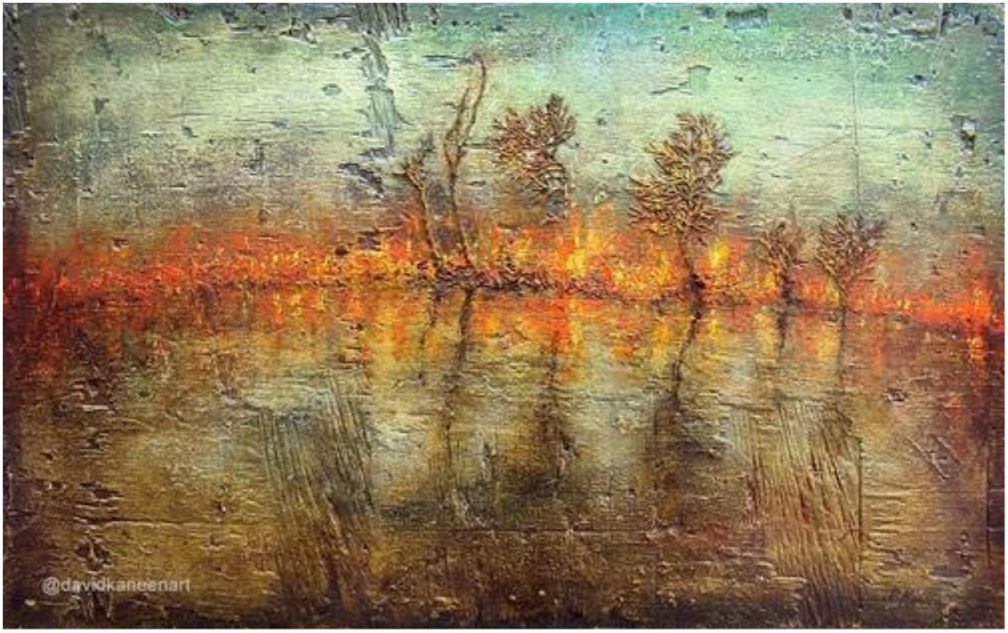 "To me, all this ramshackleness makes for a far more interesting neighbourhood. We even hear the odd rooster crowing nearby now and then.
"I see beauty in what many consider the chaos and disorder of Athens, and this triggers feelings, ideas and metaphors expressed in my paintings," David adds.
It is this type of thinking and ensuing observing of the world that inspires David Kaneen to paint beyond the obvious. For example, he was awarded First Prize in 2019 by the prestigious Victorian Arts Society for his painting (pictured below) which denotes Melbourne for him.
Likewise, his "Greek-period" paintings, are inspired by "elements of place, time and emotional provocation" he explains. And of course, by living in Athens as he's described.
David Kaneen has had solo exhibitions in both Australia and Greece. When I ask him what his plans are for the future, he tells me that he wants to further exhibit his work now that Covid restrictions are easing, and that he also intends on spending as much time as possible in his home studio being further inspired by Athens.