By Ilektra Takuridu
The battle of Levidi (April 14, 1821) was a battle of the revolution of 1821. It took place in Levidi, Arcadia, and was the first victory of the Greeks against the Turks.
Greek revolutionists managed to defeat the opposing army of 3,000 Turks with only 70 soldiers. It was a great victory that determined the successful start of the revolution and eventuating into Tripoli's liberation.
On the night of the 13th of April the Turkish army was full of confidence, fueled from their previous victories, 3,000 Turkish infantry and cavalry marched from Tripoli to Levidi to fight the Greeks.
When the Greek guards noticed the army approaching, the revolutionaries sent out the alarm and asked for help from the neighboring camps of Alonistaina. The chieftan in charge of Levidi was Anagnostis Striftombolas, whos real name was Dimitris Striftombolas and was actually a teacher and lover of literature. But revolution was in his bloodline as he was a nephew of famous revolutionist Theodoros Kolokotronis.
The leader Striftombolas, strategically occupied positions above the village to prevent the Turks' entry with help from Charalambis, and an armed force. There were only 70 Greeks in Levidi, hugely outnumbered but determined to fight until the end and defend their village.
The Greek soldiers fortified themselves in the houses of the village and patiently waited for the beginning of the battle. The Turks rushed in and attacked, expecting the 70 Greeks to give up and surrender without a fight. But to their surprise, they came face to face with strong resistance of the defenders.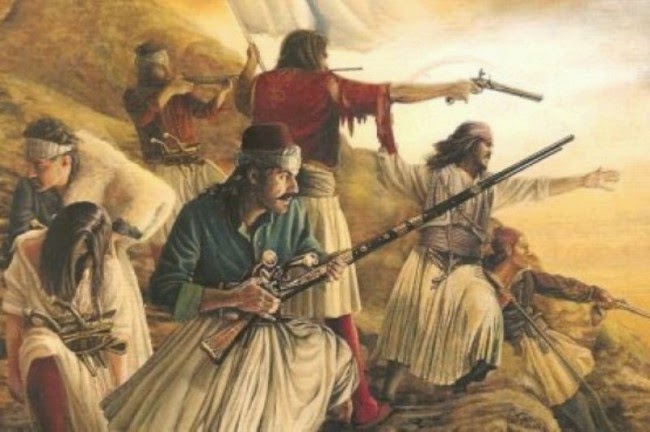 The Greek forces shocked the attackers and killed dozens of Turks throughout the village, whilst the bloodiest battle was fought right outside the house Striftombolas was in.
The battle began to favour the Greeks, they stopped defending and began to attack. The Greeks rushed out of the houses and attacked the Turks, who panicked and began to flee.
At the same time the brave Greeks of Levidi were fighting, the call for reinforcements was answered, and soldiers began to arrive from the neighbouring Greek camps under the command Dimitrios Plapoutas, Elias Tsalafatinos, Nikolaos Petmezas, Stavros Dimitrakopoulos and Asimaki Skaltsa.
The reinforcements surrounded the Turks and forced them to abandon the battle, retreating all the way back to Tripoli, leaving many Turkish bodies behind. The battle in Levidi lasted only seven hours and ended with the Greek revolutionaries' victorious.
The courage and determination of the 70 Greeks was the motivation for the liberation of Tripoli. It was a glorious victory, and made the Greek nation feel that freedom from Turkish occupation was a close reality.
The Greeks' victory in Levidi raised the morale of the fighters throughout Greece and gave them a new strength to continue the fight for freedom.