By Victoria Loutas.
The Epiphany is one of the most sacred Greek Orthodox celebrations that dates back to ancient times. This Christian tradition is celebrated on the 6th of January around the world and is a day of joy and brightness.
What is the Epiphany?
The Epiphany (also called Theofania or Fota) is a day when Christians celebrate the baptism of Jesus Christ in the River Jordan by St John the Baptist. It is the moment Christ is recognised as both the Messiah and the second person of the Holy Trinity.
Greek celebration of the Epiphany: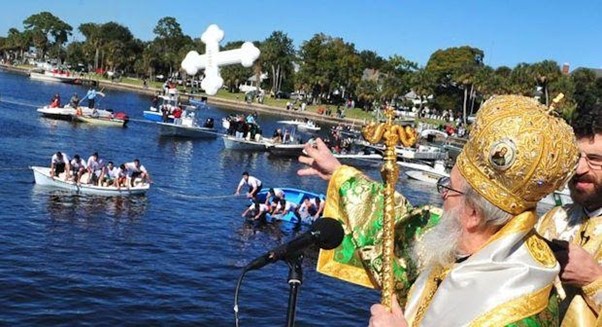 On January 6, Christians all around Greece take part in various traditions and ceremonies to celebrate the Epiphany.
The most important ritual on this day is the 'great blessing of the waters,' which is performed by a Greek Orthodox priest. The tradition is that a priest throws a special cross into the sea and many brave young men and boys dive into cold water to retrieve the cross.
The lucky person who finds and returns the cross is blessed by the priest for the whole year. Once the cross has returned, the priest releases a white dove as a symbol of the Holy Spirit. This long-standing tradition is carried out to commemorate the Baptism of Christ and to bless the waters.
Along with the blessing of the waters, there are many other rituals that happen all over Greece to commemorate the Epiphany. Some of which include:
Fota kalanda:
Just like Christmas and New Years Eve, kalanda (carols) are sung by children in Greece to celebrate the coming of Epiphany. These carols are known as "Fota Kalanda" and begin with a retelling of the creation of the world and the waters by God, and finally end with the day of Jesus Christ's baptism in the Jordan River by St John the Baptist.
Roukgatsia:
In Thessalia, Central Greece, the 'Routkagsia' are the main attraction of the holiday. On the eve of the Epiphany, groups of 10-15 people dressed in costumes go from house to house singing carols for a small amount of money. Each Rougkatsia group must feature a bride and groom, a priest, a grandfather, a doctor and the "arkoudiarides." This ancient ritual is also performed in some other Greek cities, with minor changes to the name and its performance.